Health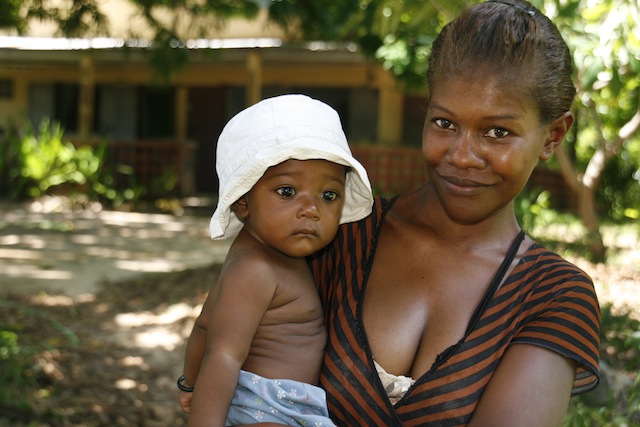 Empowering impoverished women in Madagascar with truth, education and 
compassionate medical care during pregnancy, labor and birth, and the newborn period. 
Women throughout the world deliver their babies at home, alone and unassisted.  Other times, they deliver in facilities that are understocked in equipment, medications and professional resources.  In both instances, when complications arise, disaster ensues.  Babies die, women die, children are orphaned and families are broken.  Madagascar is no different.  Here, a woman's lifetime risk that she'll die in childbirth is 1 in 45.  Just for comparison, the rate is 1 in 3,800 in developing countries.
The Sarobidy Maternity Center is slowly and passionately working to change this– one mother and one baby at a time.
At the heart of our 12-month long program is a midwifery model that is based on quality medical care, compassion, love and relationship building.  We know the women by name, we know their stories, we cry with them, rejoice with them and pray with them.   We walk with them through their pregnancy, support them through a safe delivery and postpartum period, and empower them with knowledge to care for their new babies.
Sarobidy is the word for precious in Malagasy.  We believe that life is precious and that the family unit is precious.  We believe that every woman has the right to quality and compassionate medical care and education as it relates to her pregnancy, baby, birth and the time following birth.
A Closer Look at SMC–
Women enter our prenatal program early in their pregnancies.  They come weekly to the Sarobidy Maternity Center where they receive prenatal care and laboratory testing, prenatal vitamins, a protein-rich snack and education relating to their pregnancy, nutrition, upcoming labor and delivery, and overall reproductive health.
When the waves of labor wash over a woman's body, she comes to the Sarobidy Maternity Center for monitoring until the time of delivery grows closer.  When this time comes, women deliver their babies with the Sarobidy midwives at our back-up physician's clinic until such a time when we have our emergency supplies at our own center.
After birth and when the two return home, we provide postpartum home visits during the first 10 days after birth.  In a country where postpartum care is non-existent, we provide valuable monitoring to ensure continued health for the mother and baby, to aid in the establishment of successful breastfeeding and bonding, and to provide postpartum guidance and support.
After recovering at home, new moms and babies return weekly to the Sarobidy Maternity Center and enter into our postpartum and child-development program.  Here, moms receive continued postpartum care and breastfeeding support while babies receive well-baby visits to ensure healthy growth and weight gain while also addressing any areas of concern or illness.  Similar to our prenatal portion, women continue to receive prenatal vitamins and protein-rich snacks as well as education relating to breastfeeding, infant care, general healthcare, parenting, and family planning.
Women graduate from the Sarobidy Maternity Center with chubby breastfed babies in their arms, knowledge in their heads and a diploma in their hands when their babies are six months old.
As we reach out to the women within our community, our desire is that women will know that they too are sarobidy– precious in the sight of Christ.  Our prenatal and postpartum programs not only teach truth in terms of education, they teach God's Truth–  through word, deed and prayer.  In an animistic and nominal Christian culture, our ultimate goal is that women's lives would be transformed as they come to know Christ as their Lord and Savior.
How you can be involved… 
The work of the Sarobidy Maternity Center is only made possible through generous folks that financially support our program and the care of these women and their babies.  We're still seeking monthly, quarterly, annual or one-time financial partners.  Would you consider being a part of making a difference?  Little by little– one mother, one baby, one family at a time we can make a difference together!   
Click here
 where 100% of all tax-deductible gifts go directly to the Sarobidy Maternity Center.
In case you want more…. a few facts:
Madagascar ranks in the top ten poorest countries of the world.  The lack of quality medical care on the island is a reflection of this extreme poverty.
In Madagascar:
• The lifetime risk that a Malagasy woman will die in childbirth is 1 in 45 (just for a comparison, in the USA it's 1 in 2100, in Sweden it's 1 in 11,400)**
• The maternal mortality ratio is 440 women per 100,000**
• 51% of births are attended by skilled health personnel**
* Only 40% of Malagasy women receive 4 prenatal visits during their pregnancy (in the USA, the average number is 13 prenatal visits)
• Only 27% of women use a modern method of contraceptive**
• The Adolescent (15-19 years) birth rate is 148 women per 1,000 births.  This is amongst the highest in Africa**
(**According to the UNFPA – The State of the World's Midwifery, 2011)
And a story…
Alissa's midwifery training in the Philippines is an example of some of these statistics.  A young mother of three arrived to the Christian birth center, 9cm dilated, never having received prenatal care during her pregnancy.  Within minutes, the midwives realized there was a serious potential problem.  The baby was in a breech position, both feet first.  Seconds later, the mother was fully dilated and the baby was emerging.  Seasoned midwives know just what to do in this type of situation… the first, to be prepared for a full-blown resuscitation of the baby and a potential life-threatening hemorrhage of the mother.  After some incredibly tense moments, a healthy baby girl entered into the world, breathing life, a mother rejoicing, and a family intact.  The implications had she not been brought to the birth center at the insistence of a friend would have been devastating but instead, life was protected and a family preserved.