A Grim Reality, A Stark Contrast…
A Grim Reality…
In Madagascar, like many developing countries throughout the world, women die all too frequently due to preventable complications in pregnancy, labor and delivery, and the immediate postpartum period– globally 800 girls and women die everyday in pregnancy and childbirth (Unicef).
In January, a young family came to the Sarobidy Maternity Center, the mother holding the hand of her 2-year old and her husband, carrying a 5-week old infant. After talking with them, it was discovered that this baby boy was their nephew and they had assumed total care of him after his mother died 10 days after birth due to unknown causes. When the mother died, the father of the baby left. This young family was struggling to provide the formula the baby needed and they were referred to the Sarobidy Maternity Center by the minister of health in our region.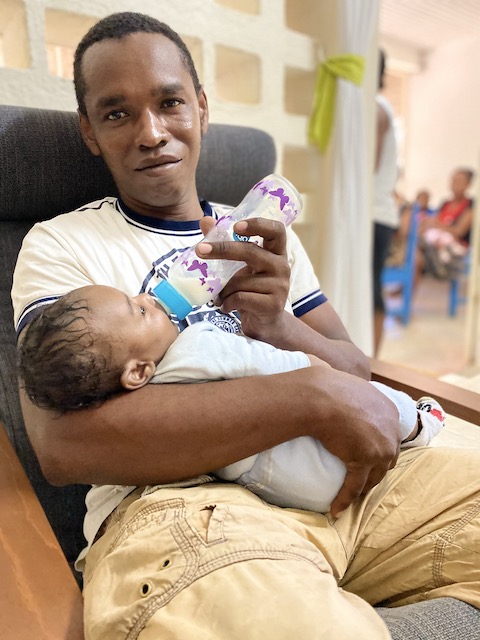 Though we don't regularly welcome new women into our postpartum program, we eagerly invited this adoptive family into the program so that we could follow this baby closely, monitoring his growth and provide the necessary and expensive formula for him. The adoptive mother and grandmother took turns coming to our program each Thursday, engaging in the weekly education lessons and Bible studies while Franklin continued growing and thriving week after week. Just last month, baby Franklin, together with his grandmother, graduated from the Sarobidy Maternity Center.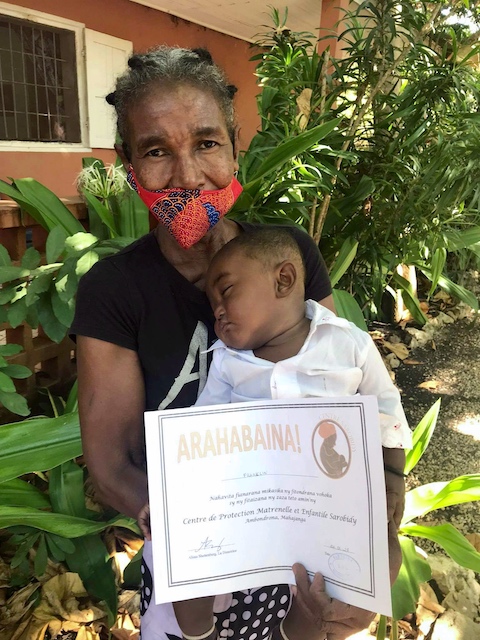 Shortly after Franklin graduated, Pao, a friend and former SMC graduate from our community came to the maternity center, bringing with her a 12-day old baby boy. His young mom, who was not in our program, developed severe pre-eclampsia– a dangerous and persistently worsening condition characterized by high blood pressure and protein in the urine, which left untreated, can be fatal for both mom and baby. At 36 weeks, it was picked up, she safely delivered at the government hospital via c-section and was discharged 5 days later. Unfortunately, there is a total lack of postpartum care in Madagascar, including in the major cities. After six days, with her blood pressure out of control and not being monitored, this young mom developed eclamptic seizures and died en route back to the hospital, leaving her newborn baby.
Pao's sister-in-law (pictured on the right) will assume care for this baby boy and was welcomed into the postpartum program at the Sarobidy Maternity Center where we will monitor his growth, development and bonding as well as provide the costly formula, in the same manner we did for Franklin.
These stories are but a few that represent the masses of the grim reality that is maternal healthcare in Madagascar. We're sad yet thankful that there is a stark contrast between the level of care and monitoring that is provided at the Sarobidy Maternity Center and that provided in local facilities!
Just last week, in the midst of a string of six births at the Sarobidy Maternity Center, a young mom in our program, came to the center in early labor. As the midwives monitored her, they noted that her blood pressure was dangerously high despite normal blood pressures at all previous prenatal visits. She was quickly developing severe pre-eclampsia. Our midwives recognized this, acted expediently and transferred her to the hospital where she delivered. Thankfully, both mom and baby are well, they're at home, they're bonding, and our midwives are monitoring them closely during her frequently scheduled postpartum home visits. In two weeks time, she'll return to our weekly postpartum program where she'll continue to be monitored.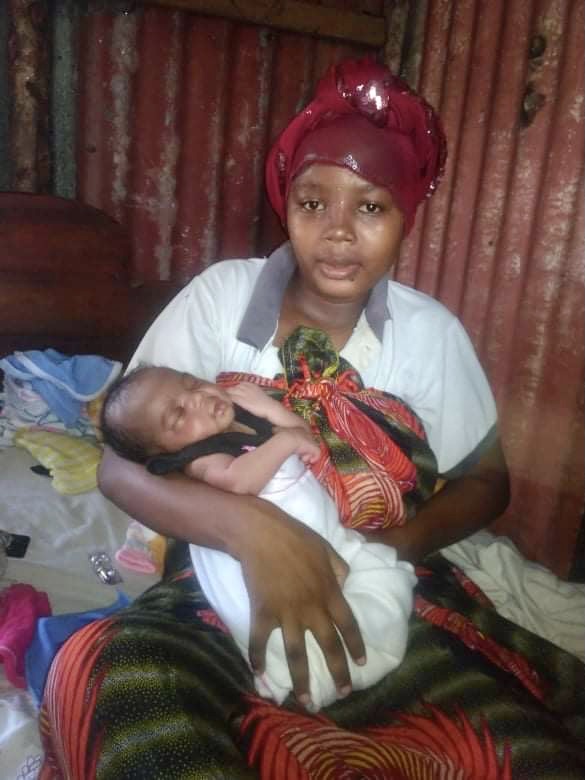 Thank you for your prayers and your generosity towards the women, babies and families that are served by the Sarobidy Maternity Center! Your partnership is priceless and is felt in tangible ways on the other side of the globe!
Please join with us in praising God for His protection as six babies were born in six days at the Sarobidy Maternity Center– a new record! Please pray with us for our team of midwives as they minister to the women and families that enter our doors– that they would boldly and passionately share about the deep and transforming love of Christ and that women would know that they are SAROBIDY– precious in the eyes of the Lord!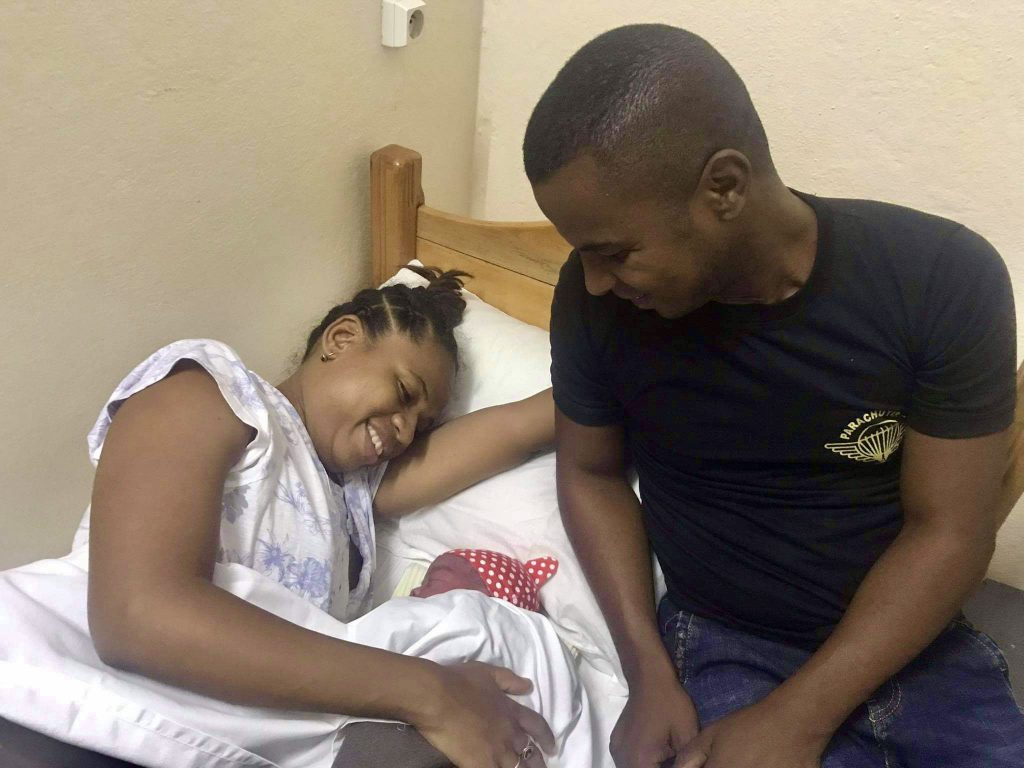 Three Year Transformation
In April 2018, we shared a story of the charcoal mafia and tree poachers that had moved into and decimated one of the last remaining old-growth coastal mangrove forests in Morangobe, an area north of our city. We shared how this community that once enjoyed abundant and nutritious diets of fresh seafood were forced to turn to eating meals only of boiled cassava root and maize as a result of the loss of coastal mangroves. We shared how as the food sources were decreasing, that the local villagers had turned to cutting down their trees and making charcoal themselves in order to provide for their families, further squelching their natural resources. And we shared how after a year of building relationships with the community, Eden Reforestation Projects was invited to begin partnering to restore their forests.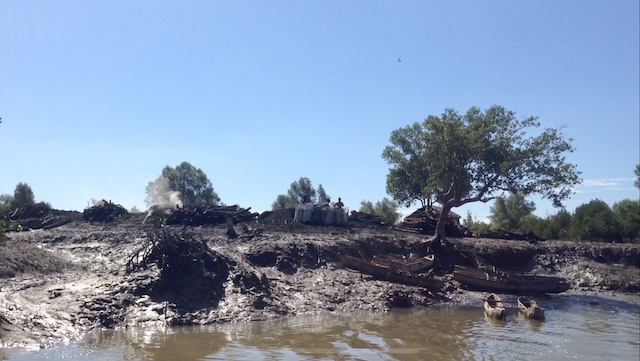 We're thrilled to share that after just three years, the beautiful expanse of the coastal mangrove forests are returning in Morangobe! As of May 2021, over 7.2 million mangroves have been planted in this area alone. The community has embraced the partnership with Eden Reforestation Projects– mutual trust has continued, shrimp and crab life are returning, diets are improving, erosion is slowing and 76 men and women have full-time employment year round– 23 of which are full-time guards patrolling the forests. Many of the former cutters are now planting the mangrove propagules and though on occasion, the illegal charcoal mafia and tree poachers are still sneaking into areas outside of Eden's planting zones, they too have decreased dramatically. Best of all, the community of Morangobe have come to an understanding and an embracing of how they can manage, protect and restore their forests!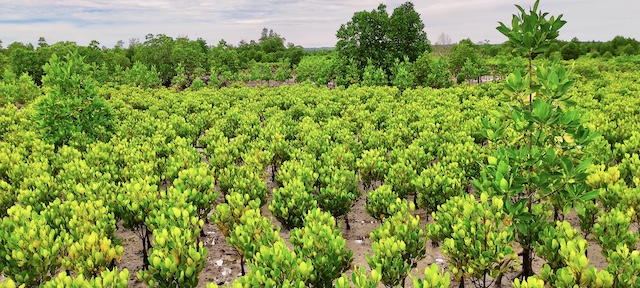 We praise God for the privilege of partnering with Him to care for His creation! We praise Him for the way that He provides for his people through His creation! We pray that the men, women and children in Morangobe would be drawn to the Creator as they fall in love, embrace and care for the work of His hands.

We thank you for your steadfast love, support and prayers for our family, our Malagasy teammates, the Sarobidy Maternity Center and Eden Reforestation Projects!

With love,
Alissa, Jamie, Isabella, Eliana and Gavin
To view this newsletter in it's original format, click here.