Health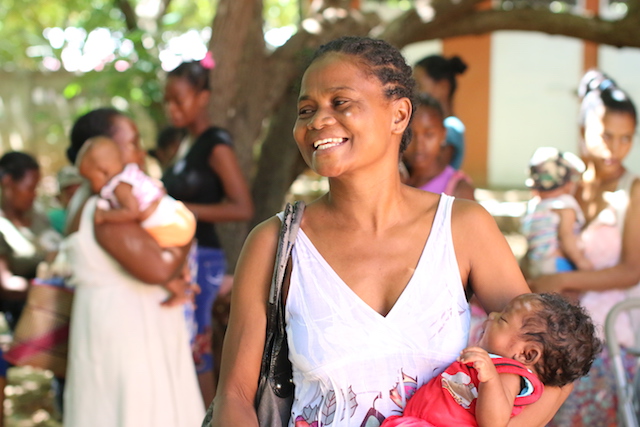 Everyday, over 800 women die in pregnancy or childbirth due to preventable causes. Most of these occur in the developing world. (WHO).
Women throughout the world deliver their babies at home, alone and unassisted. Other times, they deliver in facilities that are understocked in equipment, medications and professional resources. In both instances, when complications arise, disaster ensues. Babies die, women die, children are orphaned and families are broken. Madagascar is no different. Here, a woman's lifetime risk that she'll die in childbirth is 1 in 45.
The Sarobidy Maternity Center is slowly and passionately working to change this– one mother and one baby at a time.
At the heart of our 14-month long program is a midwifery model that is based on quality medical care, compassion, love and relationship building. We know the women by name, we know their stories, we cry with them, rejoice with them and pray with them. We walk with them through their pregnancy, support them through a safe delivery and postpartum period, and empower them with knowledge to care for their new babies.
Sarobidy is the word for precious in Malagasy. We believe that the women and babies in our midst are precious in the sight of the Lord. We believe that life is precious and that the family unit is precious. We believe that every woman has the right to quality and compassionate medical care and education as it relates to her pregnancy, baby, birth and the time following birth.
Key Components of SMC
Prenatal Care
The Sarobidy Maternity Center (SMC) provides free-of-charge comprehensive prenatal services including weekly health education, laboratory testing, sonography, medications and vitamins, high-protein snacks, and childbirth education for both the expectant mom and her birth companion of choice.
It is reported that 80% of women in Madagascar receive one prenatal visit during their pregnancies however that number drops drastically to just 40% of women who receive four prenatal visits. This low percent of women who receive minimal care opens the door to unforeseen complications during pregnancy and even more so when combined with a low percentage of births (51%) that are attended by skilled health personnel. In contrast, women receive on average 10 prenatal visits throughout the course of their pregnancies at the Sarobidy Maternity Center.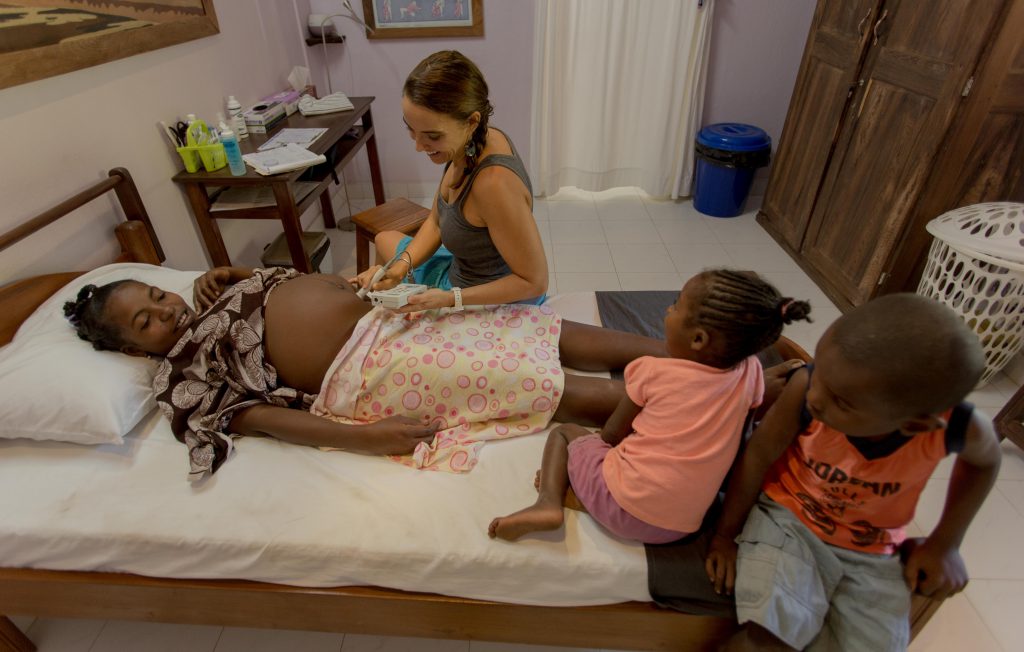 Medical Screening
The Sarobidy Maternity Center staff provides comprehensive medical screening during each prenatal visit including laboratory testing in accordance with North American protocols as well as ultrasound services to each woman during her pregnancy. As a result, staff are able to identify and treat the conditions that most frequently lead to poor maternal and infant health outcomes in Madagascar.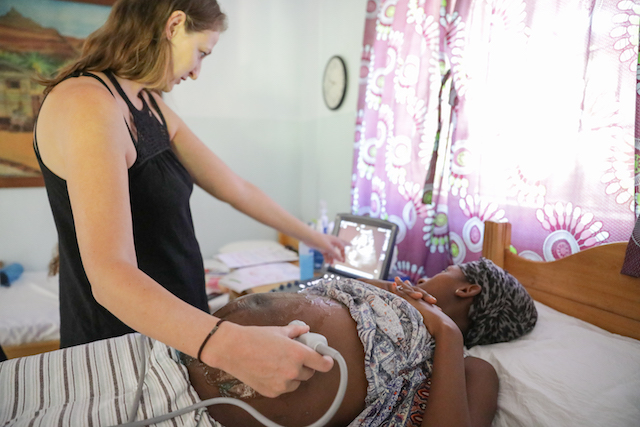 Health Education
At the heart of the Sarobidy Maternity Center is the desire to see women empowered with knowledge as it relates to their body, their pregnancies, and their babies. Each week throughout their pregnancies and the six months following delivery, women receive health education. Topics range from fetal growth, nutrition, labor and birth, the immediate postpartum period, breastfeeding, what to do (and not do) if their baby gets sick, sexually transmitted infections, family planning and so much more.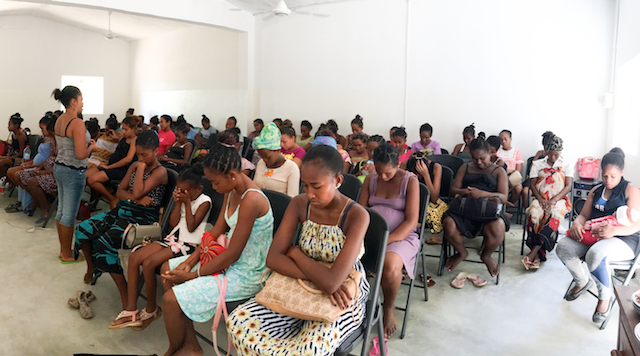 Labor and Delivery
Our team of dedicated midwives closely monitor mom and baby throughout labor and delivery as new life is shepherded into the world. We believe that birth is a natural process and as such, support laboring moms with a calm, gentle and safe environment. Our midwives are trained in common emergency obstetrical complications and an ambulance waits on site for when hospital transfers need to occur for the safety of the mother-baby unit.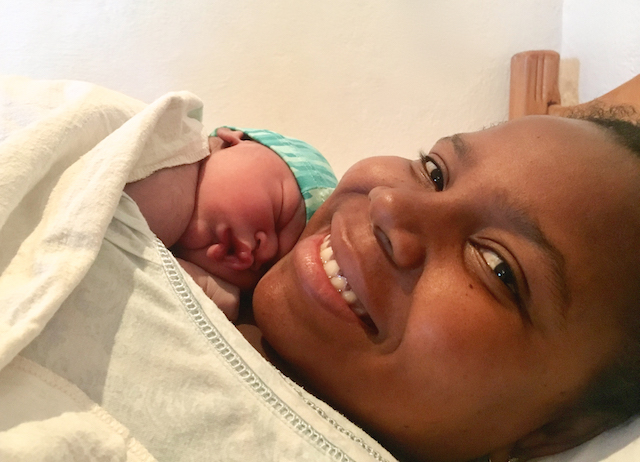 Postpartum and Well-baby Care
The first days, weeks, and months after birth are a vulnerable time for new mothers and infants. In a country where postpartum care is non-existent, we provide valuable monitoring to ensure continued health for the mother and baby, to aid in the establishment of successful breastfeeding and bonding, and to provide postpartum guidance and support. The Sarobidy Maternity Center provides 3-4 postpartum home visits within the first two weeks after delivery. Thereafter, women and their babies return weekly to the Sarobidy Maternity Center for postpartum and well-baby visits, breastfeeding support and health education as it relates to infant development and care, nutrition, and family planning. Women graduate from the Sarobidy Maternity Center with chubby breastfed babies in their arms, knowledge in their heads and a diploma in their hands when their babies are six months old.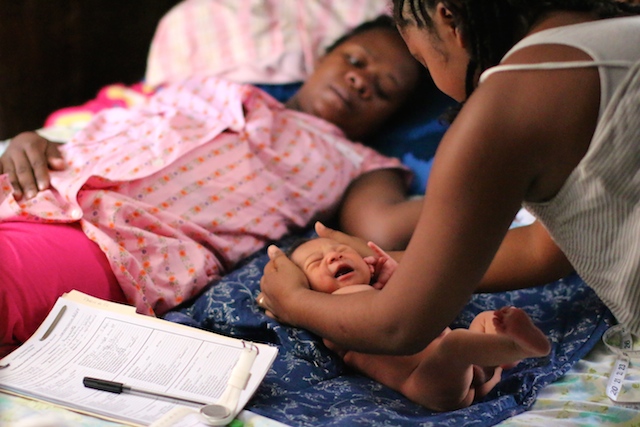 Family Planning Services
The Sarobidy Maternity Center provides free family planning education and services to any woman in the community. Access to birth control promotes child spacing and prevents unintended pregnancies in young women as well as older women, both populations who face increased risks related to pregnancy and childbirth as well as reduces the need for unsafe abortion.
Hope
In a culture where women are abused on multiple levels during pregnancy and childbirth, our desire is that each woman would experience gentle, compassionate and competent medical care throughout this precious time in her life. We firmly believe the women, babies and families served by the Sarobidy Maternity Center are indeed sarobidy– precious in the sight of the Lord. Our prenatal and postpartum programs not only teach truth in terms of education, they teach God's Truth– through word, deed and prayer. In an animistic and nominal Christian culture, our ultimate desire is that women's lives would be deeply transformed as they come to know Christ as their Lord and Savior.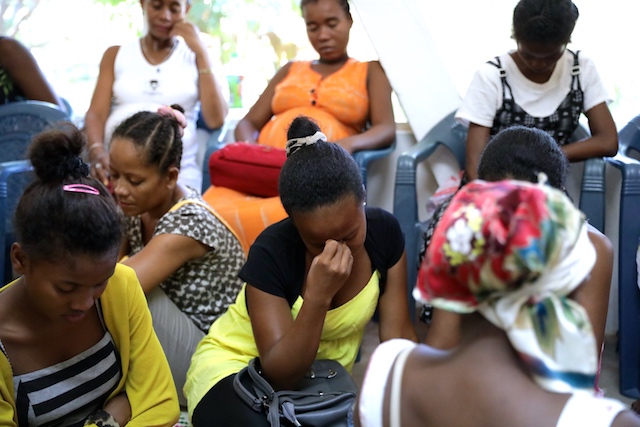 How to get involved…
The work of the Sarobidy Maternity Center is only made possible through generous donors that financially support our program and the care of women and their babies. Click here to make a tax-deductible donation or monthly commitment to the ongoing operations of the Sarobidy Maternity Center through our mission organization, WorldVenture.