Across the board…
Life on the mission field brings an array of emotions across the board… this letter hits a bit on a few of these.
Heavy…
(This is part of an original blog post that can be found here….)
A first-time mom with joyful expectation of delivering a healthy baby boy at the Sarobidy Maternity Center had been struggling with the results of her 20-week ultrasound that showed her baby had short legs. Unbelieving of the news, she received a second opinion and was told from a different physician that her baby was totally healthy. However the repeat ultrasound once again with our back-up physician again confirmed the short legs. She was in denial for half her pregnancy. At 39+ weeks the baby was transverse and it was decided to send her to our back-up hospital for a consultation with the physician there. Three days later, a baby boy was delivered by scheduled c-section due to his malposition. We spoke with this young mom just hours after she was out of surgery. She asked us to come visit that day. We arrived at the hospital and knew immediately there was something far more than just short legs.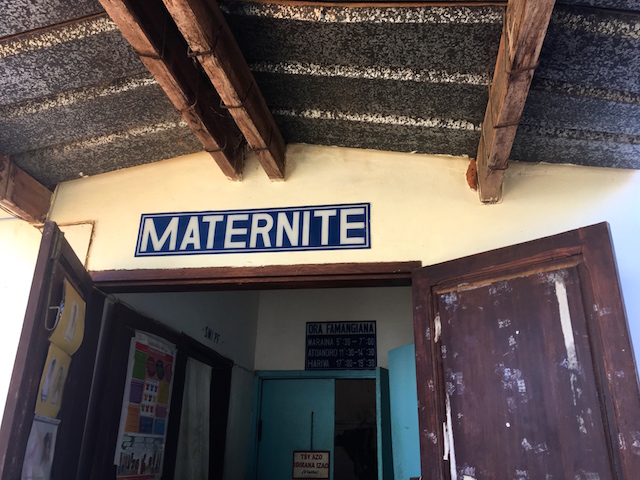 In a crowded maternity ward with 8 other beds, moms, newborns and family members, we asked if we could take the baby to another room to examine him thoroughly and out of the sight of curious onlookers. This little guy indeed has several malformations including short legs, arms, a robust heart murmur, a super high palate and a cranial abnormality.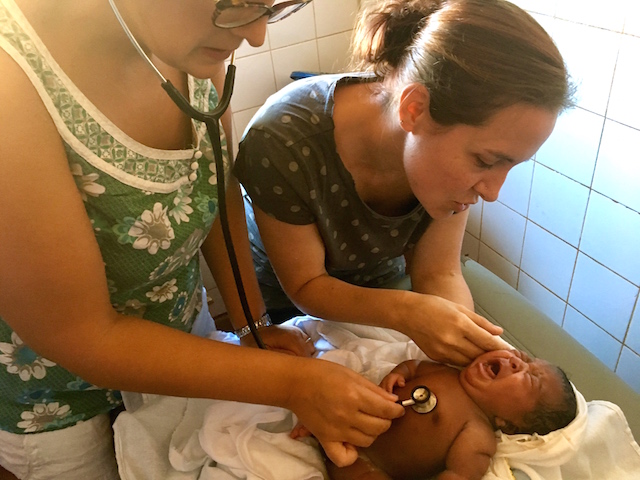 We sent pictures and the history to a pediatric genetic specialist in Canada that Dr. Rachel knows and he suggested several relatively simple tests. We've been waiting for these results, albeit a bit with bated breath, for over 10 days. Earlier this week we were told by the hospital staff that they "lost" the results and so we requested that they be repeated to which they asked us to go to a different hospital. We've been to all three hospitals in our city and not a single hospital is willing to thoroughly perform these  x-rays and ultrasounds. We suspect because the physicians simply don't know how to make a diagnosis for this baby. The injustice is crippling. Even in the best of circumstances in the best of hospitals with specialists, therapists and a multi-disciplinary approach, this would be a hard journey for this little one and his family. This family lives in quite the opposite of circumstances– a small one-room, 10′ x 10′ tin house in a crowded community, without running water, just a single light bulb hanging from the ceiling and a mattress directly on the floor. The only furniture is two small rickety tables and a bench– all made of scraps of wood. Noise abounds all around… the neighborhood mosque calling for ritual prayers, kids playing, the clanging of hammers banging against recycled metal as the immediate neighbors make hundreds of fatoperas each day– small one-pot charcoal stove tops.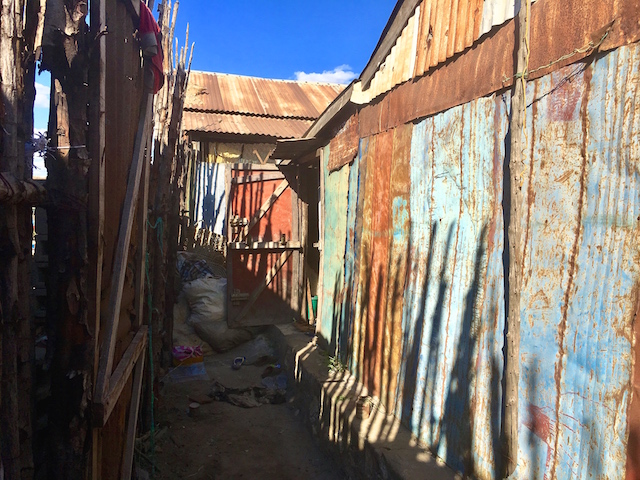 Shocking to all of us, baby is nursing like a champ and is gaining weight. Despite mom not wanting to see the full body of her baby that first day at the hospital, she is now bonding intensely to her sweet little guy for which we're so incredibly thankful!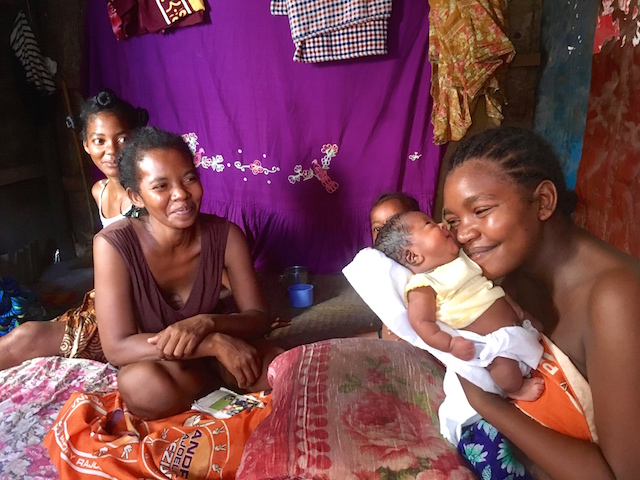 We've been waiting for the father to come back into town to meet his two-week old baby boy for the first time. During her pregnancy, mom was fearful that her husband would leave her if the baby was born with short legs… which has brought us even greater concern in light of the many malformations. The father arrived yesterday, greeted his wife, saw his son and said, "it's really sad". He left today.
Please join us in praying for this young family… for this tender-spirited new mom, for health and life for this baby boy, for this father's heart, for answers from the medical system both here and abroad, and for continued relationship and opportunity to speak Truth and share Christ's love with this family. 
To read the rest of this recent blog post, click here.
Meet Dina…
If you've been following the ministry of Red Island Restoration for several years undoubtedly you've heard of Dina. Dina is Josy's older brother and he and his wife, Maman'i Aby are close friends and long-term ministry partners. In fact, they were my "family" that accepted Jamie's high bride price offer when we had our Malagasy wedding ceremony back in 2002! (The bride price… 2 cows, 2 goats, 3 rabbits, 5 chickens, 1 turkey and some cash… and a lemur that they refused!) Throughout the years, Dina and Maman'i Aby have remained some of our closest friends and are truly grandparents to our three children.
In 1998 when Jamie and Josy went to live, fish and work in the remote fishing village of Mahabana it was because Dina and Maman'i Aby were already living there. At the time, Dina was argumentative, often drunk, smoking and having affairs with other women. Maman'i Aby, never wavering in her relationship with Christ or her love for her husband, continually prayed for Dina. In 1999, he committed his life fully to the Lord. Through this heart transformation, Dina began to love and respect his wife again, he was faithful to her, he stopped drinking and smoking and peace came back into their house, marriage and lives.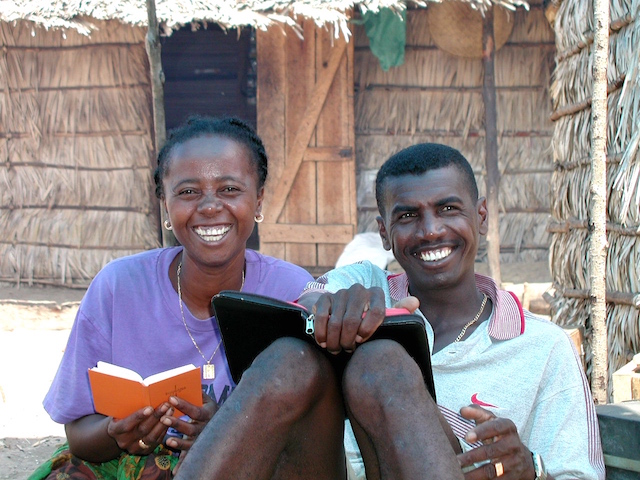 (Maman'i Aby and Dina, Mahabana- 2002)
Along with Josy, Dina was instrumental in the inception of Eden Reforestation Projects in Madagascar in 2006 and was one of the first planters in Mahabana. He is the national director of the mangrove reforestation work which spans 9 villages and 300+ employees who plant roughly 2,000,000 propagules each month.
Dina leads with compassion, wisdom and authenticity. He's tenderhearted and diplomatic yet speaks truth and brings peace into difficult situations. Dina has a gift with words and often is the first person of contact with new villages. He's highly respected by Jamie and I, by Eden employees, the village and surrounding villages of Mahabana, and within the immediate community of our larger city of Mahajanga. Despite Mahabana once being a village that was taboo Jesus and the Bible, Dina as a known Christian, was elected President of the community and remains so today. Dina is a man with a heart for Christ and allows God's grace to flow through him as he leads hundreds of men and women. He is a gift.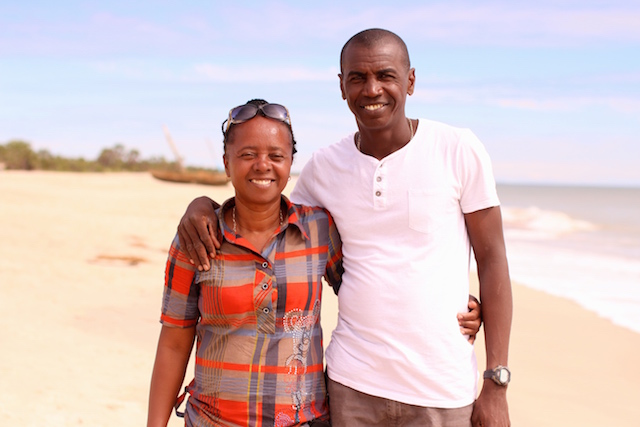 We're so thankful for how the Lord has worked in Dina's heart and life and for this gift of friendship and partnership.Would you pray with us for continued wisdom as a leader, for health, and for safety as Dina's role comes with frequent and difficult travel to the many remote Eden planting sites.
Teacher Needed…
One of the ongoing challenges of living in Madagascar is how to best meet the educational needs of our three growing kids. When we first arrived, we had a preschooler, toddler and infant and the education equation wasn't in the picture. However, nearly 7 years later, with our kids entering into 6th, 4th and 2nd grade for the upcoming school year, education is very much a priority! Though our kids attend a French School for their entire education, we have to supplement their English education through homeschooling.
For the last few years, we've been blessed by American teachers that have come to Madagascar and have poured into the hearts, minds and lives of our children and our teammates, the 
Carlstrom's
 kids, through education.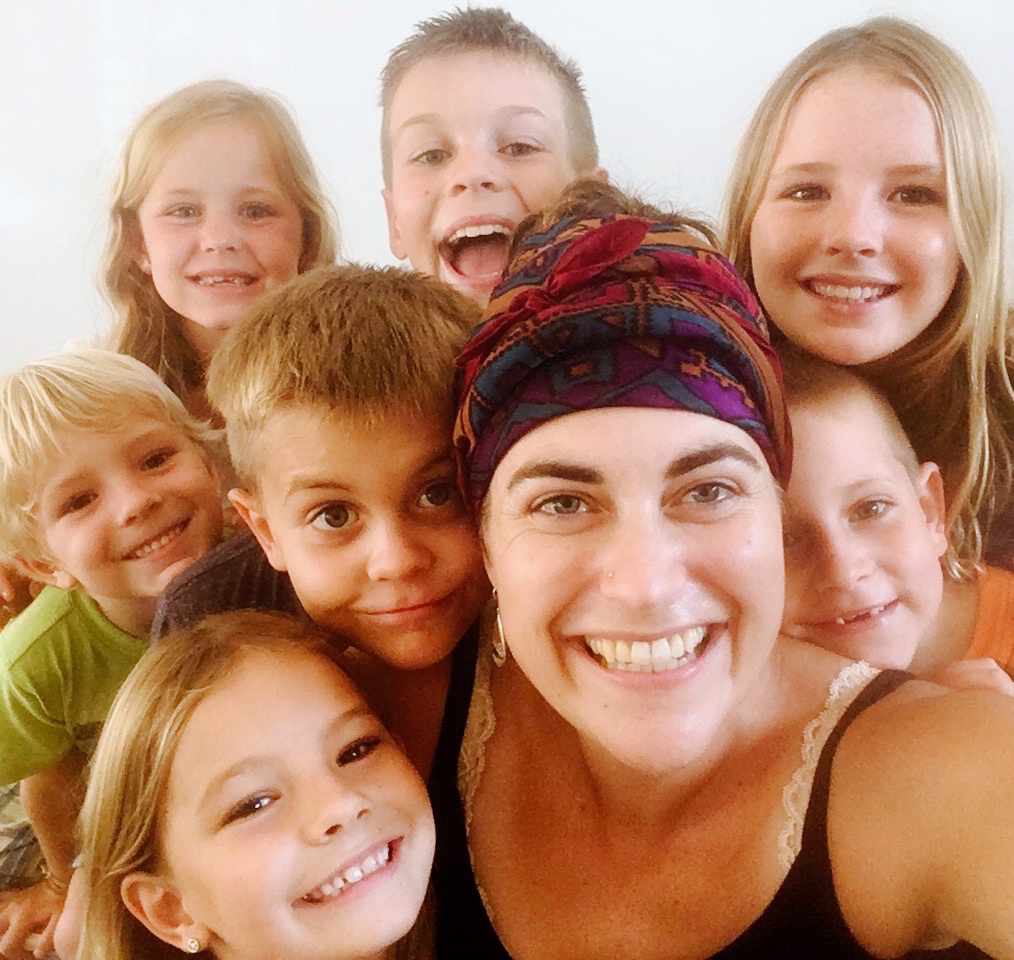 Though we'll be on home assignment in the USA for part of the upcoming school year, we're looking for a motivated, adventurous and fun-loving teacher to join us in Madagascar in early 2018 to homeschool SIX missionary kids in the afternoons.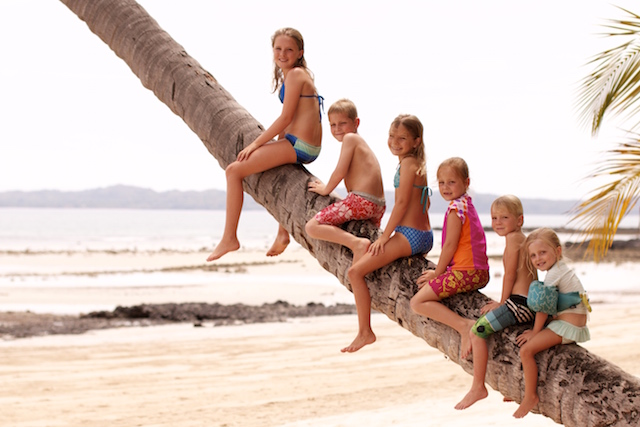 Please pray over this need with us and pass this need along to those in your circles of friends and family!  
If you or someone you know is interested, don't hesitate to email us: jandaandfamily@gmail.com
Mass Exodus…
Summer months on the mission field usually equates to a mass exodus of missionaries back to their passport countries for home assignment. To be honest, our field is so small in our city that we've never experienced the effects of this. This year is a different story though. As you may remember, last year our team more than doubled when we received three new families bringing our total to 26 (10 adults and 16 kids!) This is the largest our Madagascar field has ever been in the long-standing history of our mission agency, WorldVenture. Each family uprooted their lives and sacrificed much to move their troops half a world away- each coming with a unique purpose. We know all too well that expectations and job descriptions morph sometimes drastically once actually on the mission field but these families handled the transition and stress of cross-cultural living in stride. In the last 11 months, these families have brought unique talents and passions to our field…
* they homeschooled our kids
* they launched the Tonga Soa guesthouse
* they brought international business expertise to the work of Eden Reforestation Projects
* they wrote and illustrated a children's book about Madagascar and the need to protect this wondrous island nation
* they helped launch a website and give business counsel on our artisan project, Sarobidy Creations
* they helped us begin births at the Sarobidy Maternity Center
* they started a women's exercise and nutrition class for our Malagasy ministry partners
* they brought education and training to our Malagasy midwives with evidenced based best practices
* they documented the work in Madagascar through image and video
* they built a treehouse for our kids
* they brought computer training to our Malagasy Eden Projects staff and helped to institute more detailed accounting practices both for Eden Projects and WorldVenture
* they photographed our Sarobidy Creations designs for our upcoming website
* they helped to serve over 2,500 hot meals to pregnant and postpartum moms at our new Sarobidy Kitchen which began in January
* they entered into Malagasy and missionary community– building deep relationships with new friends
* they were stretched, challenged, and weary at times and yet, in their perseverance, they have witnessed the goodness of the Lord in this place, they have journeyed on a life-transforming year and will return to North America as different men and women, different mothers and fathers, different children.
All three families leave Madagascar later this month. Their goodbyes and lasts are upon them as they wrap up their time here. 
Please pray for each of these families– the Bright's, the Gough's and the Jensen's, as they experience a massive range of emotions from excitement to return home to deep grief as they say goodbye to friends and the lives they've built here. Please also pray for those of us remaining– both missionaries and Malagasy as we will undoubtedly feel the large hole left, both professionally and relationally, by their departure.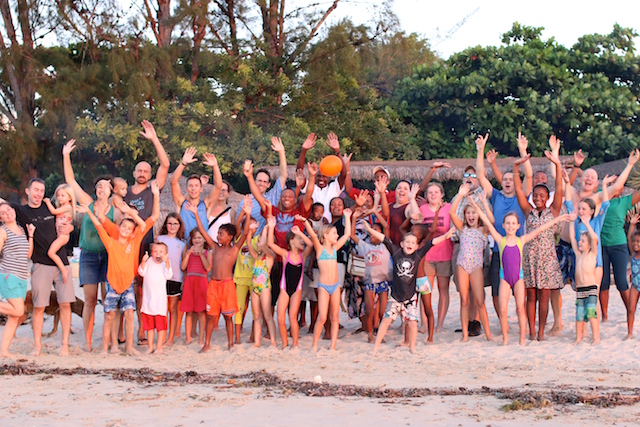 Updates…
Elizabeth continues to improve and we're honestly blown away by her recovery! Last week she walked 4-miles round trip to our house to bring us mokotra fruit from their property. Please continue to pray for Elizabeth… the only physical indication that she suffered from life-threatening acute aplastic anemia is the severe visual changes that remain. Please pray for full restoration of her eyesight. If you missed this amazing story of God's healing, you can read about it in last month's newsletter.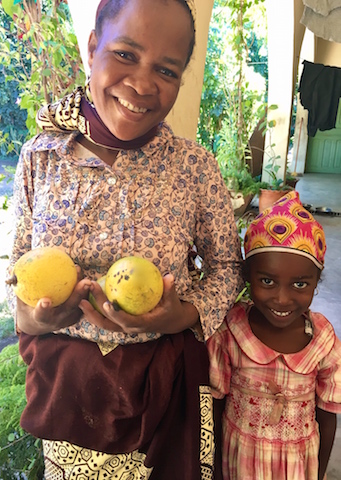 In the same newsletter above, we shared about the meeting between Eden Projects, the Minister of Water and Forestry and the local mangrove cutting cartels. The goal of the meeting was to establish a united effort to find a sustainable way to harvest the mangroves while ensuring protection and a healthy mangrove presence for generations to come. A week after this meeting, 70 local mangrove cutters, distributors and government officials gathered together in a muddy mangrove estuary for a teaching by Eden Projects staff on how to properly prepare and plant mangrove propagules. The day ended with an additional 15,000+ propagules planted. Please join us in praying for long-term united efforts to protect and restore the forests of Madagascar.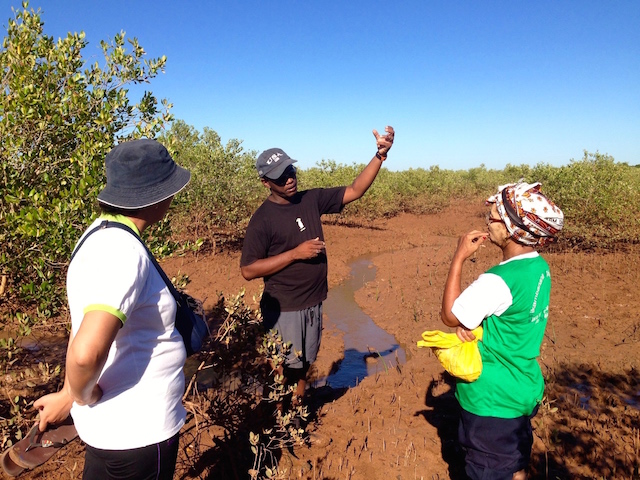 (Josy teaching a representative of the Ministry of Water and Forestry and a mangrove distributor) 
We thank you for standing with us– for linking arms with us through prayer and partnership as we seek justice, as we rejoice in transformation, as we celebrate the Lord's healing, as we delight in those we get to share this journey with, as we grieve good-byes, and as we pray for the needs here in Madagascar.
Alissa, Jamie, Isabella, Eliana and Gavin
* to view this newsletter in it's original format,
click here
.