Chicken Count
Quiz:
A customary gift of friendship here in Madagascar is:
flowers
a froofy-smelling candle
a chicken
a stuffed fish on a plaque to hang on the wall
If you guessed C. a chicken, congratulations!  Yes, a chicken is the traditional gift of friendship here in Madagascar.  There's not any hard and fast rules about this (that I know of), however it's the typical fomba or custom.
Since we moved back to Mahajanga in July, we've received a few chickens.  On New Year's, our chicken count increased to four.  We're now the proud owners of 3 lady chickens and 1 rooster, a cock-fighting rooster no less.  The four of them cruise around the yard, eat the bugs, have a tendency to destroy our plants and let out an occasional BUCKOCK and in the case of the rooster, a cock-a-doodle-do at dawn… and all day long.  They also provide endless play for our kids who love chasing them around the property, especially Gavin who is 19 months.
Chicken #1– The cock-fighting rooster, given to us upon our return by a family that's become family to us.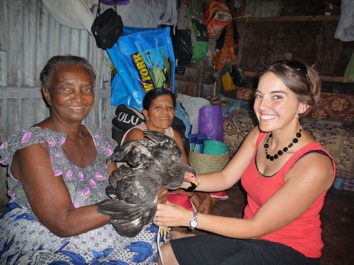 Chicken #2– given to us by Robert, a guard on our property… yes, we need to have a guard 24 hours a day.  More on this in another post.
Chicken #3– given to us by the folks we work with for New Years.
Chicken #4– this was the most surprising of all and a very tender display of friendship, given to us by Maman'i Patrick.  We actually don't know her real name, but her son's name is Patrick and so she's referred to as Patrick's mom or Maman'i Patrick.  She sells produce in town, walking around the downtown area while balancing on her head a massive basin full of mangoes, litchis, plums or any other seasonal fruit. On New Year's she came to our house and gave us a chicken and 10 eggs.  It was an amazing moment.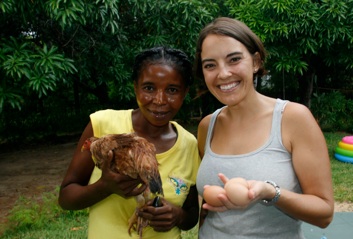 Oh, and if you're ever in the market to purchase and give a live chicken to someone… look at their feet.  The feet give you a good indication of the age of the chicken… the less worn and ragged, the younger the chicken and hence more tender, especially important if the chicken will become dinner.