Christmas Joy
Last weekend on Christmas Eve we had a family first.  In the days leading up to Christmas, I was in a baking frenzy, making our hot kitchen all the hotter.  In total, I baked 19 dozen cookies as well as some bars.  We celebrated Christmas Eve day by delivering these scrumptious treats to our Malagasy friends and employees.  In Malagasy culture, it's more of an honor to visit someone in their house.  So, all five of us loaded up into the car and spent the ENTIRE day delivering cookies.  It's also custom to give a short kabary (or speech) in such instances.  My kabary went a little something like this; Ity fanomezana ity tena mamy-be dia mitovy ny mamy ao anatony fonay ho anareo.  (This little gift is sweet and it's the same as the sweetness we have in our hearts for you).  The expressions on our friends' faces were even more delectable.  Probably one of the best parts was as our friends went to get a plate to transfer their yummy goodies onto, we said, "oh, the plate is for you too".  Their mouths dropped and then wide smiles displayed across their faces.  In my mind, the cookies were the gift and the plate was an "add-on".  However to our friends, perhaps the
95-cent plate was the real gift and the cookies were the "add-on".  Either way, our family was blessed with joy beyond measure on Christmas Eve!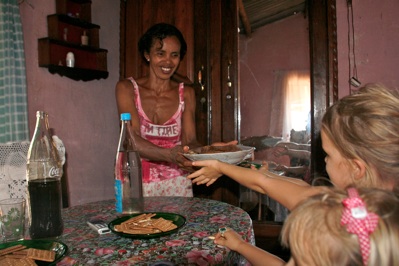 The girls giving Charlotte her plate of cookies…  It was wonderful to see the pride Charlotte takes in her small(15ft x 15ft) "pretty-in-pink" one room house for herand her family of 5.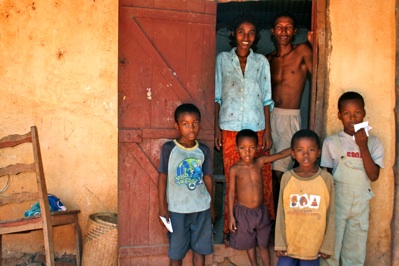 Armal, a close friend, absolutely LOVES food and his small frame is no indication of how much he can pack away.  His response to the cookies the next day… "that was an explosion of tastes in my mouth that I've never experienced before!"  We asked if the cookies were gone yet…. With a huge laugh, he admitted they were gone in less than 5 minutes!