Cooking Challenges (part II)
As I've said before, cooking in Madagascar is no easy feat at times.  Though it has drastically improved with the number of items we can get for which I'm so incredibly thankful!  There are however, still a number of ingredients we can't get or we need to improvise with, etc.  Case in point.  I was feeling eager a while back and decided I would make our favorite chocolate chip, oatmeal, walnut cookies that my dad bakes and are awesome!  
For starters, here's the recipe:
1/2 cup butter
6 tbl sugar
6 tbl brown sugar
1 egg, well beaten
1 tsp vanilla
–cream together.
1/2 tsp baking soda
1/2 tsp salt
3/4 cup flour
–combine dry ingredients and add to butter sugar mixture.
1 cup chocolate chips
1 cup oatmeal
1 cup walnuts
Bake at 375.
No big deal right??  Well, in Madagascar, it's a big deal.
We'll start with the brown sugar component.  There isn't brown sugar here.  At one time I did find and reluctantly bought imported brown sugar from Costa Rica at a whoppin' $8 for a small box!  However, in the north of the island, they sell large bricks of what I think is brown sugar.  I recently received one from my father-in-law and his recent travels but before I could use it, I had to shave it off the brick and then pulverize it in my food processor (which was brought from America… and requires a 220v-110v transformer.)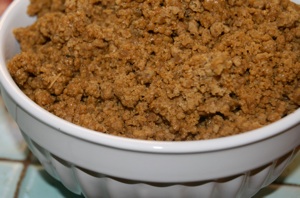 Next step was the chocolate chips… no such thing.  That's an easy enough fix though because they do sell pretty decent chocolate bars here.  So a little chopping and we're good to go.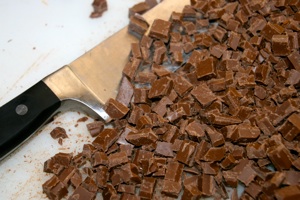 And the walnuts???  This one requires some
fore-thought.  There is a walnut season in Madagascar but it's not now.  Fortunately, when it was walnut season, I bought several kilos of walnuts, cracked them out of their shells and roasted them.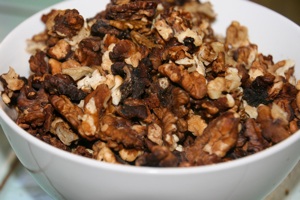 A long time later… we did enjoy chocolate chip, oatmeal, walnut cookies.  But as my late mother-in-law always said, "baked items just don't come out the same in Madagascar".  She was absolutely right!  Though they tasted good, they were a sad representative of the cookies I grew up with.  If anyone out there has a good tried and true chocolate chip, oatmeal, walnut cookie recipe that works in Africa, please pass it along!