"I never thought it possible…" January News
"I never thought it possible…"
Those were the words spoken by Josy nearly four years ago when he thought about living to see his 40th birthday. He didn't think he would make it. He was literally at death's door and given just days to live by the doctor when we received the phone call telling us to come quickly if we wanted to see our dear friend before he passed away. Immediately we made the 12-hour drive to the capital to see Josy lying gravely ill in a dirty, overcrowded and poorly stocked hospital. Josy's kidney's were failing due to the damage caused by chronic schistosomiasis– of which he had already had a surgery for 12 years prior.
The story is far too long and complex to write here however you can read the original email and subsequent updates below. In a nutshell, Josy's long-term prognosis was dependent on life-long dialysis or a kidney transplant. Life-long dialysis wasn't a welcome option and kidney transplant surgeries aren't performed here in Madagascar. This left all of us feeling a bit defeated. Once Josy stabilized with dialysis, we started exploring together possibilities for a transplant. After testing, it was found that one of his brothers was an initial match based on blood type for the surgery. Seven months later after three times a week dialysis, Josy, his wife Ana, young son, Joice and his brother Redy were flying to India for further testing in total faith that his brother would be the perfect match for transplant. The Lord did just that.
During the five months they spent in India, more than half of the time was spent depending on and living in the home of a human trafficker! This of course was unknown to all of us until Josy and Ana discovered under the bed, documents and passports of close to a hundred men and women who had come to India through this man in hopes of receiving proper medical treatment! All of this was reported to the Malagasy Embassy in India and this man was investigated and banned from returning to Madagascar!
With the help of a superintendent of the Free Methodist Church in India, Josy and his family were relocated 8 hours away to the proper hospital in New Delhi. Soon thereafter, a successful surgery ensued and within weeks, the family was reunited back in Madagascar!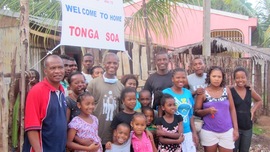 It's been over 3 years since the surgery and we're beyond thankful to the Lord for the way He saved Josy's life! The story is so much deeper and more complex than all of this– seriously a story one couldn't even make up… but isn't that way the Lord works sometimes?!
This past weekend we went to dinner with Josy, Ana and their kids, Jocya (12), Princia (9) and Joice (7).  The 10 of us sat there at a table on the side of the road near the ocean eating street food… small meat shish-ka-bobs dipped in a green mango salsa, a tortilla-like bread and roasted plantains.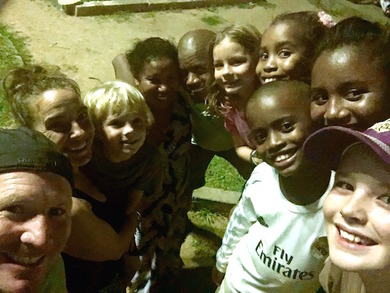 We talked about Josy's birthday– his 40th birthday which is TOMORROW, February 2! The birthday that he never expected to celebrate. For the next two hours we revisited the crazy journey that God led us on together. Josy shared his final thoughts with us the night he fully expected to pass away and his shock when he woke the next morning. We spoke of the trials and triumphs and the long-ever-twisting-road that God used to bring him to this place. We spoke of dialysis and hundreds of IV's, we spoke of being trapped in Lucknow, India with the human trafficker, we spoke of God's boundless grace, provision, mercy and love. We spoke of ALL OF YOU that generously gave close to $70,000 to keep Josy alive so that he could be a husband to his wife, a dad to his kids, a brother to his siblings, a friend to many, a pillar in the community, the local director of Eden Projects here in Madagascar, and the direct proof that Jesus is indeed NOT taboo in the remote fishing village of Mahabana! Josy's life remains the living proof in Mahabana and the surrounding villages that the Lord is above all! We listened to Josy sharing how he has found his value and worth in Christ alone rather than being defined by other's thoughts and opinions- especially as he faces persecution. We listened as Josy shared how God met him as he cried out in his days of deep darkness and how he fell in love all over again with his Savior.
Tomorrow is Josy's 40th birthday… over homemade chocolate cake, we will rejoice together and praise the Lord for health and for life abundantly! Indeed, God is good!
Please rejoice with us!!!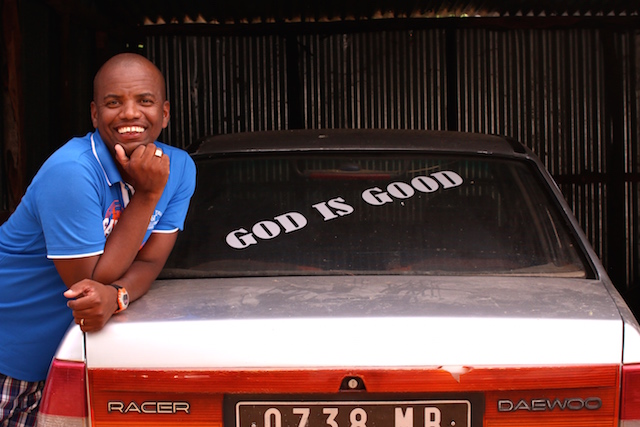 Should you choose to read Josy's story, I've place an asterisk in front of the "must-read" updates.
*An Urgent Call to Prayer – February 2, 2013
New Staff!
For quite some time now, we've been anticipating the need to grow our staff at the Sarobidy Maternity Center. With deliveries now occurring on-site, we need to have a midwife at the center 24 hours a day, 7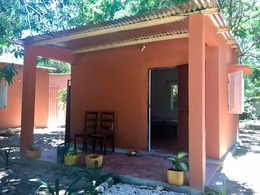 days a week, 365 days a year. We recently completed the building of a midwife on-call house to meet this need.
We've been lifting up this need in prayer frequently and asked you all to pray with us back in October. We're thrilled to share with you that on Monday, we offered full-time employment to Rhozes, a midwife that just completed a 3-month training/trial period with us and just today, two new young ladies, a new graduate midwife, Stephanie and new graduate nurse, Tony, began their 3-month training/trial period! These three ladies are eager to learn a compassionate and evidence-based approach to caring for women during pregnancy, labor and delivery and the postpartum/newborn period.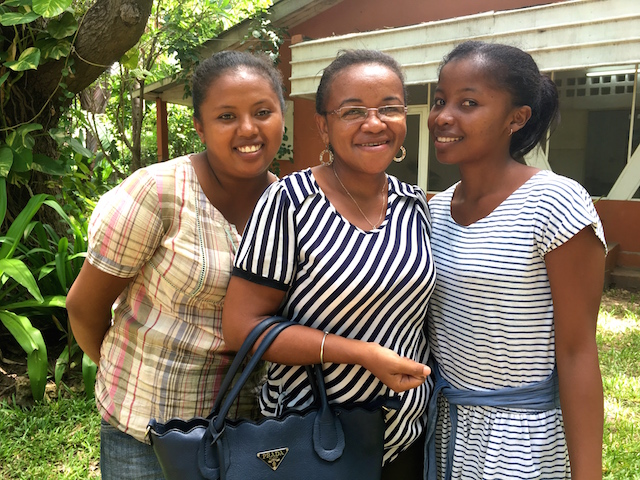 (left to right, Tony, Rhozes, Stephanie)
Thank you for praying with us– we praise the Lord that He brought these three women to the center! Please join us in praying for Rhozes, Stephanie and Tony. Pray that they would embody the goal of the Sarobidy Maternity Center to empower women with Truth, education and compassionate care during such a precious time. Pray with us that their hearts would be receptive to new information that at times will be vastly different than what they were taught in school. Pray with us that they would desire to build deep relationships with the women in our care as the center is a place of community for the ladies as well as the staff! 
From remote Madagascar to Los Angeles…
***In case you missed our last newsletter, we wanted to share this again.***Many of you have heard throughout the years about the remote fishing village of Mahabana.  Jamie first went to Mahabana with Josy, his close childhood friend in 1999.  At the time, the village was small, approximately 150 people and the village was taboo Jesus Christ and Bible.  Jamie and Josy went for 3 months to fish, build relationships with the people, and see how the Lord would open the door to share the Gospel of Christ.
As is common in remote Madagascar, young girls are often married before they even reach their teenage years. One single mom of five, Maman'i Sissy, didn't want that for her girls and in 2001, asked Jamie if he would help be a guardian for her oldest daughter Sissy, then 9 years old. Sissy arrived in our city of Mahajanga and began going to school for the first time at Jamie's sister and brother-in-law's school.  A year later, Sissy's younger sister, Vanah also moved to our city and started school.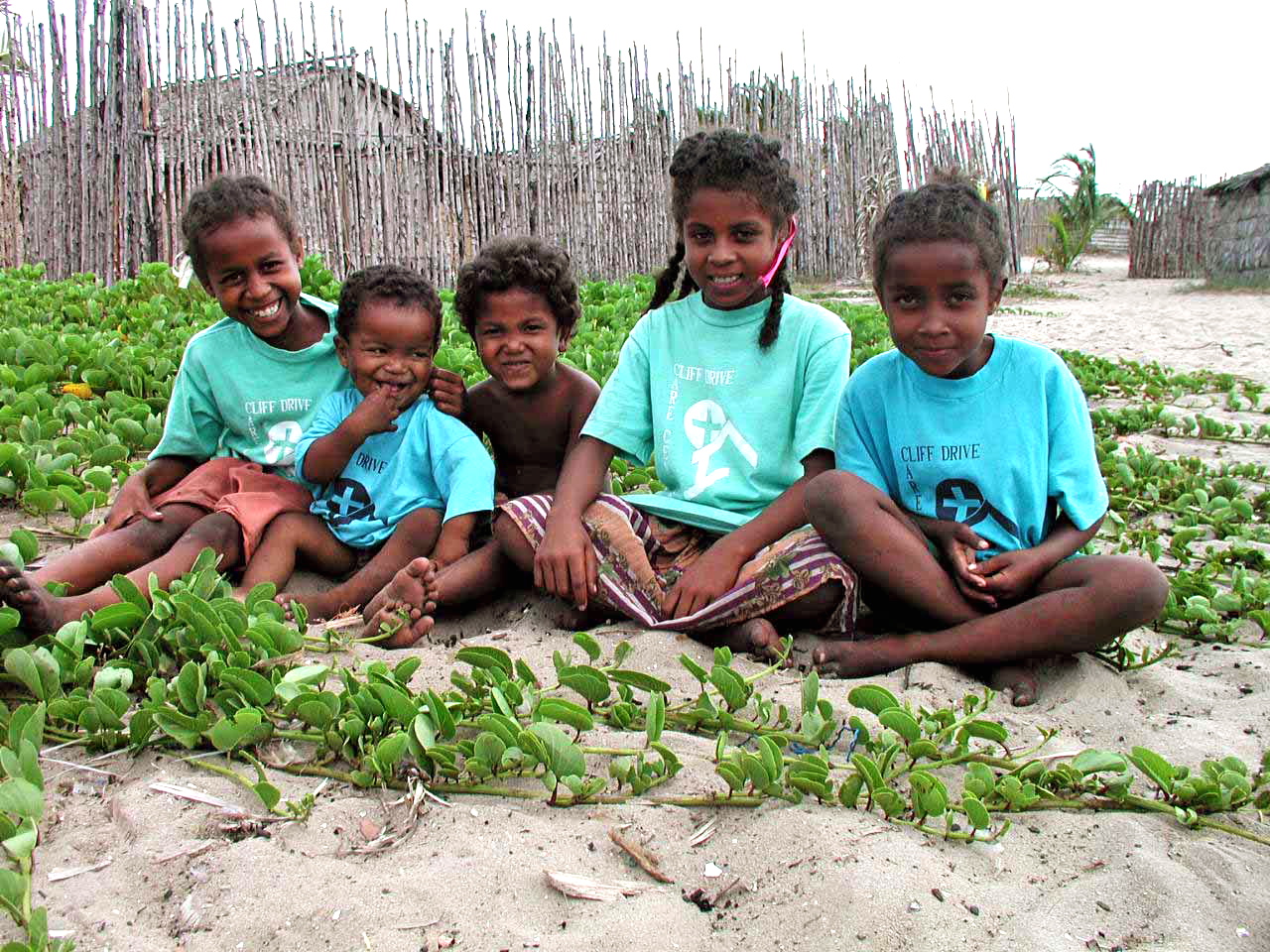 (Mahabana 2001: Vanah far left, Sissy second from right along with their sisters and brother)
Fast forward to 2016—- both girls completed their entire education in English and were the first in their families to graduate high school!   The benefit to an English education is off-the-charts incredible however the drawback to an English education is that there aren't any universities here in Madagascar in which to continue their education.  As such, Sissy has been in the USA for 18 months going to college and taking pre-requisites to start a nursing program!  Vanah graduated high school this past June and moved to the USA just before Christmas and has joined her big sister, Sissy as well as cousin, Clarisse.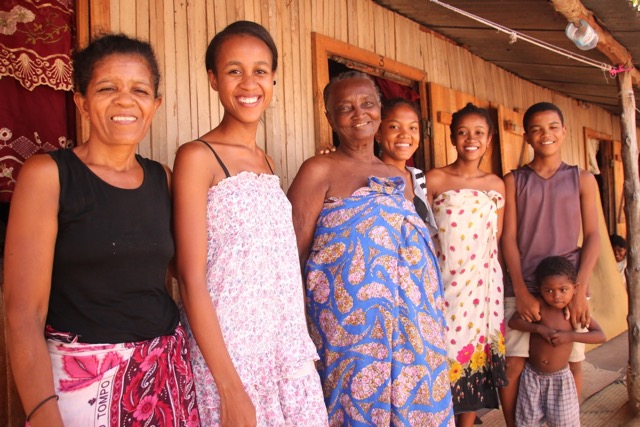 (December 2016- Vanah said goodbye to her mom, grandma and younger siblings to depart for the USA)
The three girls are living with the same sister and brother-in-law KariLynn and Wilfried in Southern California as they attend College of the Canyons.  Vanah will officially began her college career earlier this month!
For the past 15 years, their education and living expenses have been funded by Jamie and myself, KariLynn and Wilfried, and as of a few years ago, 3-4 monthly sponsors.  Now that the three girls are in the USA and attending college, the financial need has drastically increased.  Their tuition and required health insurance alone is $19,560 per year—this of course doesn't account for books, food or living expenses.  Currently, there are 4 monthly sponsors—ourselves included, giving a total of $8,940 annually towards these educational expenses leaving a deficit of $10,620 each school year!
These girls are truly like our young adult children— we are so incredibly proud of them and we're amazed at the journey the Lord has lead them on from a deeply remote village in Madagascar to the bustling metropolis of Los Angeles for college!  They each love the Lord and we trust that He has great plans for their lives!
Would you consider joining us to financially support the education of Vanah, Sissy and Clarisse? Any amount is truly helpful!  A special project is set up through our mission organization, WorldVenture, where all donations are tax-deductible and will be directly applied to their college expenses! Click here to be directed to WorldVenture! 
We praise God for each of you… for standing with our dear friends, with our staff, with young ladies that are like our own children, for standing with our family as we partner together to see the Lord restore the great red island in health, in forests and in Hope in Him!
Alissa, Jamie, Isabella, Eliana and Gavin