Leading with Grace…
…At the Sarobidy Maternity Center
Rota is the National Director for the Sarobidy Maternity Center. Before the center even opened, she moved 12 hours from the capital city to the coast to help open the center. She was young and a new graduate midwife. Over these last eight years, Rota has grown leaps and bounds in knowledge, wisdom and grace as both a midwife and as a leader.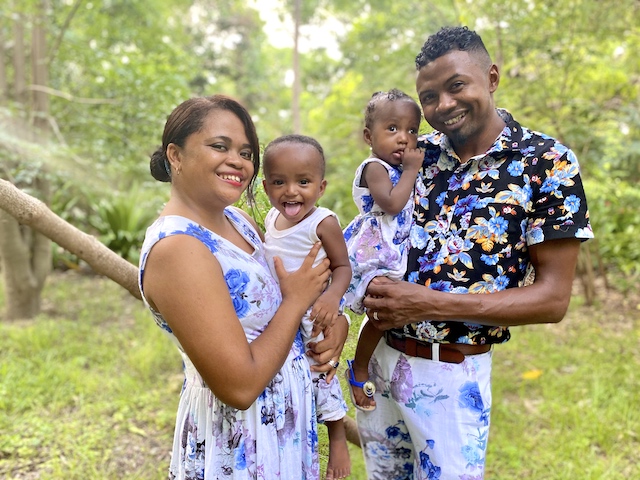 Earlier this month, the Sarobidy Maternity Center staff organized, planned and paid for a staff New Year's party– complete with a delicious lunch, singing, friendly competitions and a coveted prize. Each year, this party grows as the number of staff and their families grow– this year was no exception… we were 75 people!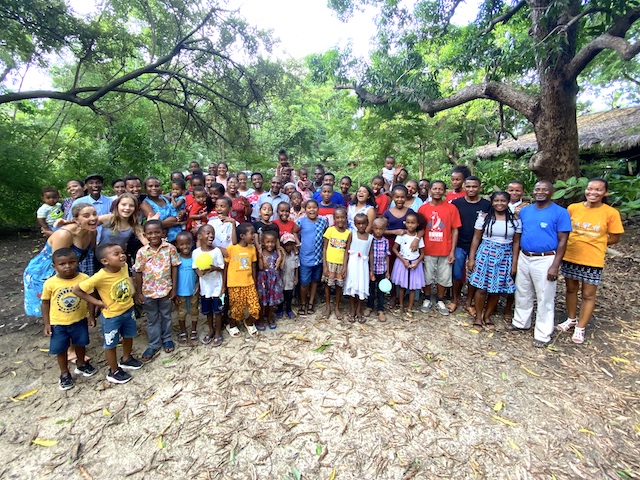 The various competitions that Rota organized brought together mothers and sons, fathers and daughters, and husbands and wives to form teams. After each round of competition, Rota gave a short message, speaking about our nuclear families, the  broader maternity center family and about the family of God. 
* While firmly gripping/balancing a pingpong ball between two partners faces and without using hands, each team raced to drop the pingpong ball into a cup– reminding us of the clear need for team work and that we cannot walk this life alone and further reminding us that when we fall, we don't blame one another, rather we pick up and start again.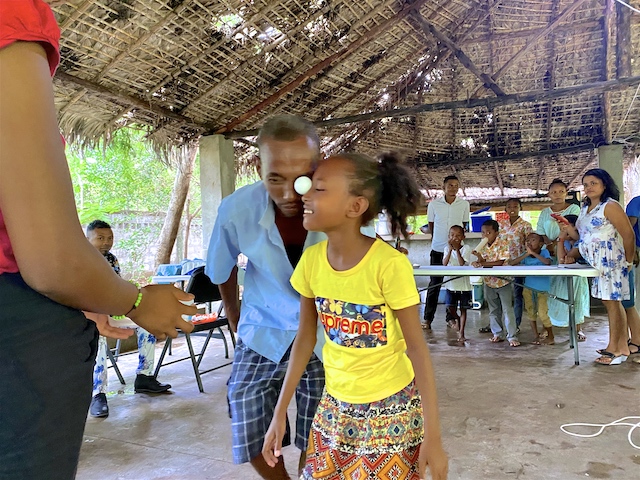 * Blowing up a balloon within a cup, each teammate must not let the balloon deflate thereby causing the cup to drop– reminding us to be wise and creative in order to move forward.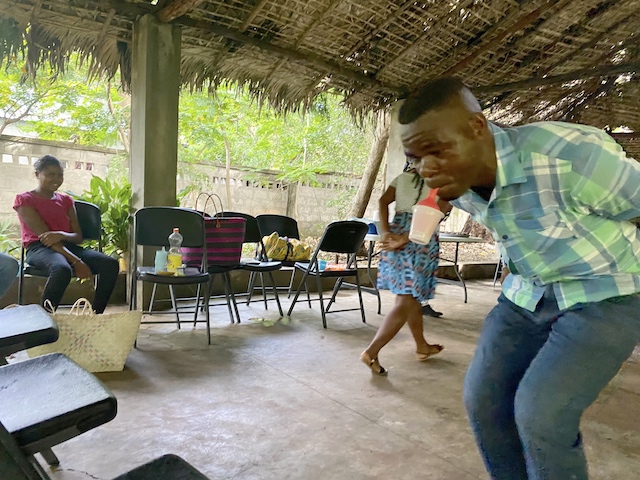 * With a massive hidden pile of random items, one person from each team had to remember as many items as possible and communicate those to their teammates– reminding us to be observant, to communicate clearly and be trustworthy.

* A blind-folded obstacle course with everyone shouting and vying to lead one astray– reminding us to listen well in the midst of the chaos, avoid listening to the misleading information of others, to keep our focus on Christ and follow the truth.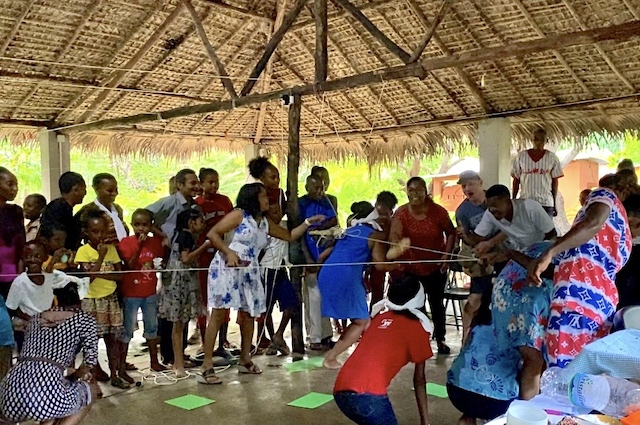 * Creating the longest line with everything that each family brought from home….reminding us that when we sacrifice and join together as a family, that we can go further together than we ever could go alone.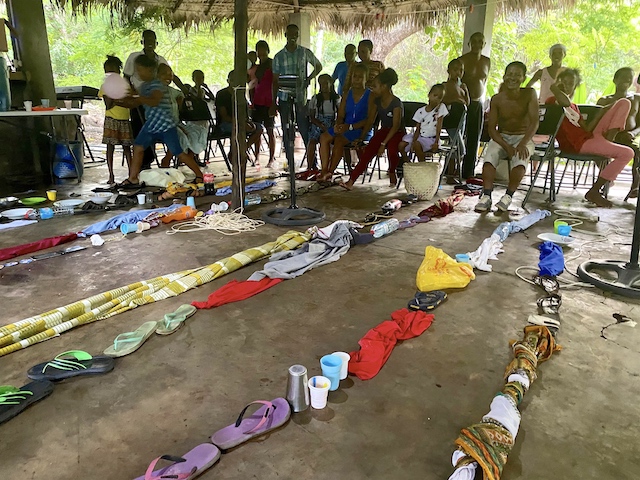 We're so incredibly thankful for the ways in which the Lord is using Rota, the National Director of the Sarobidy Maternity Center– to lead with love, with wisdom, with truth, and with grace. She did so during this recent staff celebration just as she does with the midwifery team, the patients and the daily operations and growth of the center! We ask that you would join us in continuing to pray for Rota and her family, for the Sarobidy Maternity Center, the midwives and staff, and for the families that the Lord brings through our doors– that they would know they are precious in the sight of the Lord!
…With Eden Reforestation Projects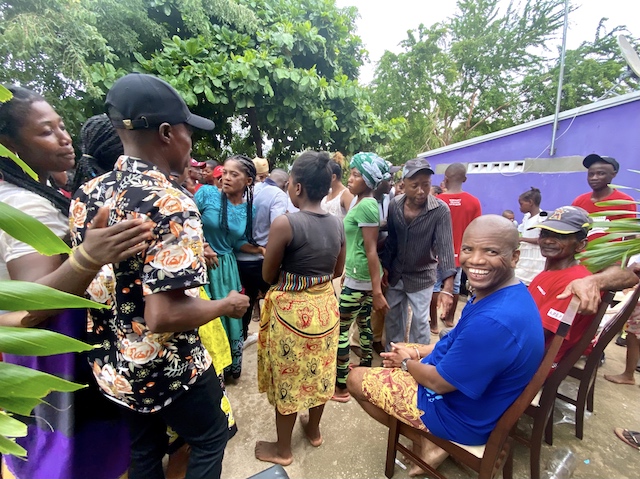 Earlier this month, on a Friday afternoon, music and cheering filled our community, however it wasn't coming from the typical circumcision, marriage or death party. Rather it was coming from a parade of Eden Projects employees from the village of Bemangoraka, nearly 18 miles away, where approximately 95 men and women are employed to reforest the area surrounding their village.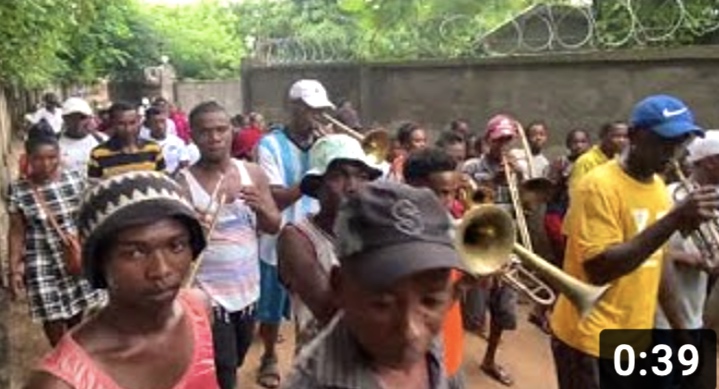 CLICK HERE to view this parade of employees– singing, dancing and playing instruments as they walk to Josy's house to thank him for the transforming gift of employment and present to him a cow. This is just one of the many parades of people passing through our community to thank Josy for his leadership.
As the National Director of Eden Projects in Madagascar, Josy has the massive responsibility of leading this dynamic, ever-growing organization. He delicately balances delegating responsibility, providing correction, council and direction, and encouraging and entrusting leaders of various teams (Reforestation, Survey, Compassion, etc) to lead their teams well. The combination of all these various teams equates to more than 4,000 full-time employees that have planted more than 130 MILLION trees in 2020 alone!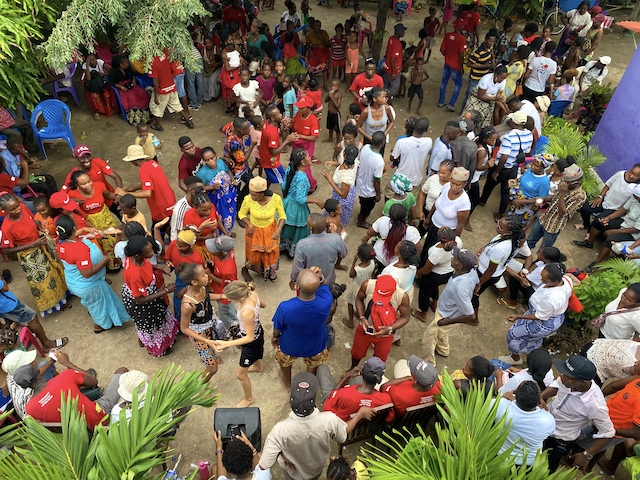 We're thankful for the ways that the Lord is using and equipping Josy as he navigates this challenging role as the National Director of Eden Reforestation Projects! We ask that you join with us in praying for Josy and his family– for balance of life, work and ministry. We ask that you pray for the ongoing and ever-growing work of Eden Reforestation Projects, for the various leadership teams both in Madagascar and in the USA and for the families that are being touched by employment– would they come to a deep understanding that the Lord is their provider!
The Beauty of God's Unfolding Plans…
Nearly thirty years ago, three teenage boys went hunting in the countryside of Madagascar. While sitting around a fire that night, they talked and prayed that God would allow them to work together in the future.
Nothing catches God by surprise as His plans unfold!!! Today, those three teenage boys, Armand (left), Jamie (center) and Josy (right) are now husbands, fathers and leaders together with Eden Reforestation Projects.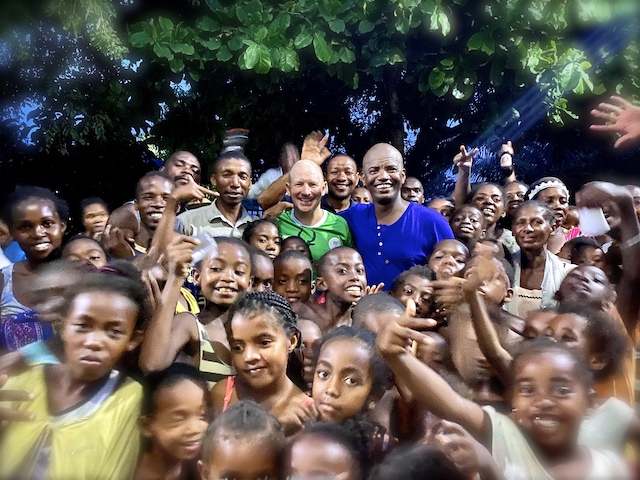 Nearly twenty years ago, there was a young girl whose family's house shared a property with a missionary family. Brand new to Madagascar, a single young lady stayed with this missionary family for a bit and met this young girl but language obstacles hindered their interactions other than smiles and nods and at one time, watching the flickering black and white images on their TV together.
Nothing catches God by surprise as His plans unfold!!! Today, that young girl and that single young lady, Rota and Alissa, are wives and mothers and leaders together at the Sarobidy Maternity Center.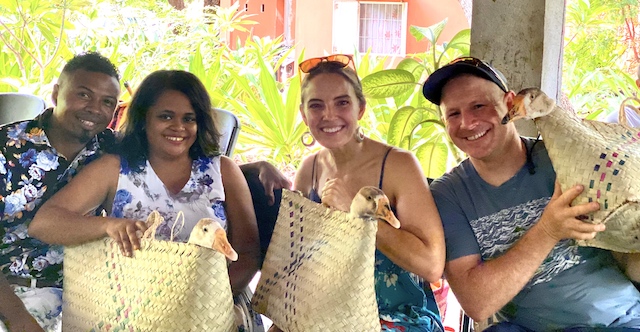 We praise the Lord for His appointing of these two leaders, Rota and Josy (as well as so many others who are not mentioned here)!! We're thankful for their leadership in our lives, we're thankful for the ways they have taught us and we're thankful for the ways they have extended grace to us over the years. We covet your prayers for each of us as we continue to walk together in leadership– that we would continually look to, learn from, and follow closely, the Ultimate Leadership of the Lord. Please pray that we would continually learn from one another, strengthen one another and lead well with one another!!

We pray that each of you would be encouraged today as you see the Lord's great plans unfold for you and for those around you!

With love and gratitude,
Alissa, Jamie, Isabella, Eliana and Gavin
*** To view this email in it's original format, click here ***