Meanwhile in Madagascar…
Le passé composé et le futur proche…
Four weeks ago neither of us would have been able to tell you what these important french grammatical terms were, how to use them and the know a few of the associated verbs to communicate what you actually want to say. Today… amazingly… we can, albeit in our very limited knowledge!
Twenty hours a week, Jamie and I sit in our respective classes. We're learning the rules of grammar (oh la la, so. very. complicated!!), taking copious notes, listening to and transcribing recordings, reading aloud, writing stories, playing language games, and occasionally sitting in the computer learning lab repeating words and phrases as our teachers listen in and correct us. Did I mention that 98% of all the teaching and associated activities are completely in French?! This however, is just the classroom instruction. Out of the classroom, we're easily logging an additional 25 hours or more a week of studying, working on homework assignments and completing our weekly evaluations.
Learning a new language is tough. It stretches the brain in different ways than other things. It's both exhausting and invigorating and it's a rollercoaster of the highs of understanding and the lows of feeling like your drowning. And yet, each and every day, we sense the Lord's confirmation that we're doing exactly what we need to be doing for this season of ministry in preparation for the years of ministry to follow.
In Madagascar, higher education, the medical system and the government all operate in French. As such, French is crucial as the Sarobidy Maternity Center moves forward and begins to formally train our own five Malagasy midwives in addition to the eventual start of our post-graduate midwifery training program for other midwives in our community. Every day in Madagascar, there are far too many tragic deaths of moms and babies during pregnancy, delivery and the immediate postpartum period. Research shows that the best way to counter this is to train midwives– and in the case of the Sarobidy Maternity Center, to raise their education to an even higher standard while empowering them with life-saving emergency skills and demonstrating compassion in caring for the families in our midst.
Under the leadership of Jamie as the International Director in Madagascar, the hard-working employees of Eden Projects are approaching the 200 million tree mark in the northwest corner of Madagascar! Eden Projects is easily the largest reforestation organization in Madagascar– combatting both severe deforestation and extreme poverty. As such, the Malagasy government often seeks partnership contracts with and educational trainings from Eden Projects. As you may guess, many of these are in French!
And so as we study the French language, grapple with new grammatical concepts, and rack our brains to remember and apply what we've learned while speaking, reading, writing and listening, we are encouraged. Encouraged that the Lord has called us to this place. Encouraged by all that the Lord has done and all that He will do in Madagascar. Encouraged that the Lord has allowed us to participate in the transformative work that He is doing in the lives of the Malagasy people and the land of this beautiful island nation.
Meanwhile in Madagascar…
…babies are being born, women are being medically cared for and spiritually encouraged, trees are being planted, seedlings are being tended to and men and women are being employed. We're so thankful for strong leadership teams with both the Sarobidy Maternity Center and Eden Projects that carry-on the work in our absence!
In the last three weeks alone, 162 prenatal, postpartum or family planning appointments have been conducted, four baby boys entered the world, and nine new women were welcomed into our prenatal program. We so appreciate your prayers for all the women, babies and midwives at the Sarobidy Maternity Center! We especially ask that you join us in prayer for the 12 women that are due in October!! That they would have sweet, uncomplicated safe births and for the midwives who will shepherd new life into the world!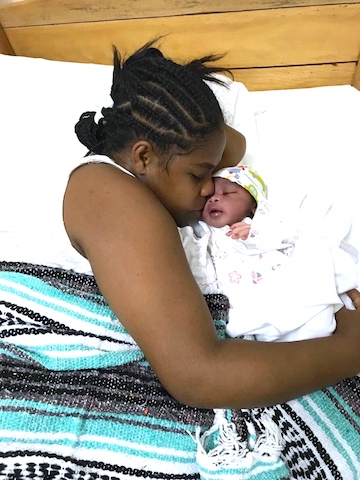 The work of Eden Projects is just as busy. In the last four weeks alone, over 2.5 million mangrove propagules have been planted, nearly 1 million seedlings have been tended to, and over 1,100 people have received income!
We continue to be in contact with the both the leadership staff of Eden Projects and the Sarobidy Maternity Center several times a week– receiving reports, consulting with them about decisions and reviewing finances.
We greatly appreciate your prayers for the work that continues in Madagascar as well as wisdom for us as we lead from afar. 
Of flames, fires and victories…
Fire season sweeps across Madagascar every year causing severe damage to the island's landscape. Sadly, as Madagascar gets dryer every year due to deforestation, the fire seasons get more intense. Last week, a large fire met the employees of Eden Reforestation Projects at the Antanamarina (True Village) planting site. By 10am, the raging flames threatened to burn their reforestation efforts of the last 2.5 years. Armed with flip flops, green palm branches and buckets of water they attacked the flames throughout the day. Ten hours later, at 8pm, the flames were extinguished and their valiant effort saved half their reforestation site.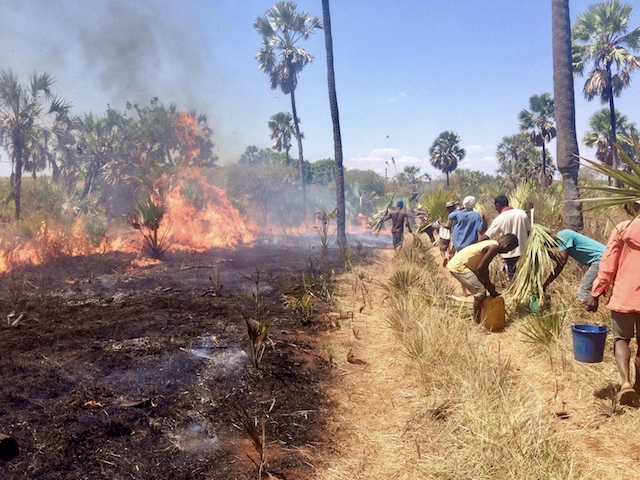 Some would say this was a tragic loss and yet, we know the victory is greater than even the loss. Three years ago, this fire wouldn't have been challenged–  it's torching flames would have continued to spread freely. But with the work of Eden Projects, also comes education with the community about fires– how to prevent them, how to fight them, the damaging impact they have on livelihoods, natural water sheds, erosion, etc. And because of this education, the presence of Eden Projects and the village-vested interest into their forests, there's been a massive shift in the community perspective as evidenced by both Eden employees and villagers who fought and defeated the flames. The village is conducting their own investigation to figure out how and where the fire started and if possible, to address the culprit. A further victory indeed as they seek change to protect and plant their forests.
Ultimately, we pray that each of these men and women in Antanamarina would experience true victory in Christ– the kind of victory that transforms hearts, minds, families and generations steeped in ancestral worship. Would you pray with us? 
New Services at SMC…
As you may remember, back in June we received a team from
Hope Imaging
to train our midwives in the use of sonography. We're thrilled to share that these new skills are indeed a blessing for both the mamas and the midwives at the maternity center! We're now able to properly determine an estimated due date for incoming women based on fetal growth early in pregnancy as well as follow-up "in-house" with potential concerns such as fetal position, lack of/or too much amniotic fluid, placental position, etc.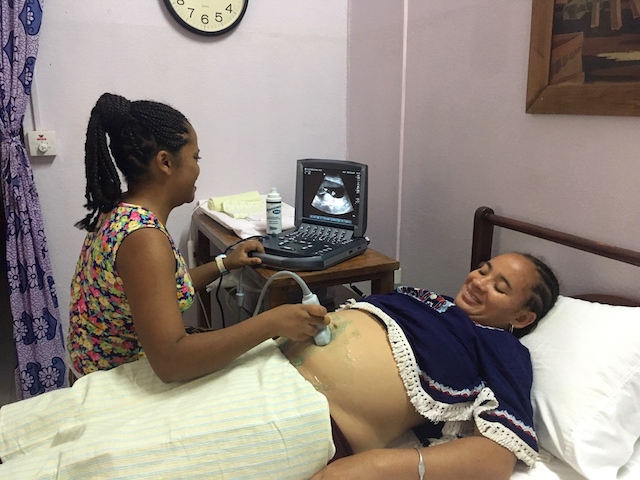 As we perform ultrasounds on women, we also have the unique opportunity to share just how fearfully and wonderfully made her baby is– to ooh and ahh over the sweetest of heartbeats, the hiccups visualized, the tumbling and turning, and the facial characteristics of her baby. Would you pray for the women in our center– for unique opportunities to talk more deeply with them and that they may stand in awe of the Lord, the One who gives life and offers life abundantly! 
Thank you for standing with us in prayer and rejoicing with us in the victories. Your partnership is a gift!
Blessings to you and yours,
Jamie, Alissa, Isabella, Eliana and Gavin
*** To see this newsletter in it's original form with additional pictures, click here***