Pack, Travel, Unpack
The days leading up to our departure from Santa Barbara were a little hectic…. an all-day softball tournament, 3 church services, and a wedding…oh my.  And that was just the 3 days before we left.
In the 2 weeks between my midwifery licensure exam and our departure, I was the faithful and persistent shopper whereas Jamie was the faithful and persistent packer… I'll take my role anyday over his.  Though I must admit, I was soooo weary of shopping (shhhh… I don't say that aloud very often!)  But it's true, shopping for five people for the next year loses some appeal pretty quick.  Online shopping, discount shopping, store shopping…. yada yada yada.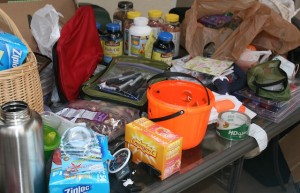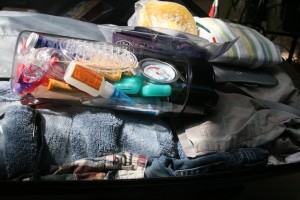 Jamie on the other hand, took off every tag, packaging, label, etc… you know all those ounces add up to precious pounds.  He stuffed, rolled, taped and made a puzzle out of all our possessions in our ten- 50 pound bags.  Yep, 500 pounds.  It goes quick!  In the end, we had eleven- 50 pound bags and decided to bite the bullet and pay for an extra suitcase.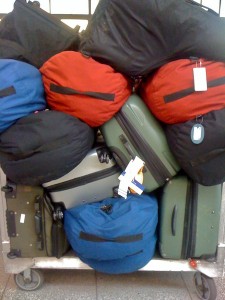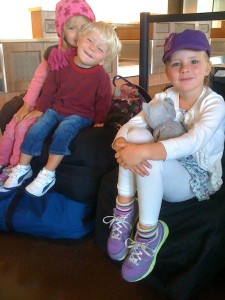 And so it was, we traveled around the world with 3 kids, ages 6, 4 and 2, with 11 pieces of checked luggage, 3 carseats, 3 rolling carry-on suitcases, 3 backpacks, 2 computer bags, 1 purse and 1 stroller… and a partridge in a pear tree.  What is a partridge anyway??
We flew from Santa Barbara to Los Angeles, Los Angeles to New York.  Picked up ALL those bags…. got on a shuttle and checked into our hotel at 10pm.  At 8am the next morning we were back at JFK with ALL those bags.  Check-in was seamless!  Amazing!  We then flew from New York to Johannesburg, South Africa (all 16 hours!) and then the final leg, Johannesburg to Madagascar.  25 hours of flight time alone.
We then spent two days in Antananarivo, the capital city, doing some errands and finally made the 11-hour van ride back to our city of Mahajanga.  When we pulled into our driveway, the festive mood was even more exaggerated when we saw this….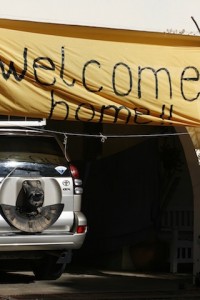 Total travel time from our door in Santa Barbara to our door in Mahajanga… too long.  But we're thrilled to be back.
And just like when all journeys are over, the unpacking had to begin, all 11 bags, and 9 carry-ons worth.  Which in my opinion is way more exciting than the packing part, except for when it comes to the unpacking, refolding and hanging of clothes.
Three days later, there was a place for everything and everything was in it's place… well even if it meant that some things were just thrown into the cupboard and the door quickly shut.  We're thankful that we're here, we're thankful that all our bags came with us (though there was a 24-hour delay on 4 of them), we're thankful that the packing, traveling, and unpacking is over… at least for this time around.