Unchartered Territory…
I have so many blog posts swirling around in my head that I may start to get dizzy.  I'm always inspired to write when I'm here but don't always get the time to do so.  I've got some fun things to share, some stories to share, some people to introduce you to, and unfortunately  some sad things to share about life and so many of the injustices around us.
This time though I'm going to share with you about the unchartered territory we're entering when it comes to our kids and their educational needs.
When we arrived back in Madagascar, the kids school had already been in session for a week.  Isabella had 1 full day of rest and play back in our home before she was itching to go to school.  1st grade to be exact… which is CP at the French school but to be honest, I have zero idea what CP stands for.  Eliana wasn't quite as eager and was uber content to stay at home before trekking up the small hill to school a few days later.  Eliana is in preschool or MM which is something in between the youngest and the oldest classes in the preschool, but again, I can't tell you exactly what MM stands for.  Yeah, I really don't know any French.  It's pathetic.
So here's our girls on their respective first days of school for the 2012-2013 school year.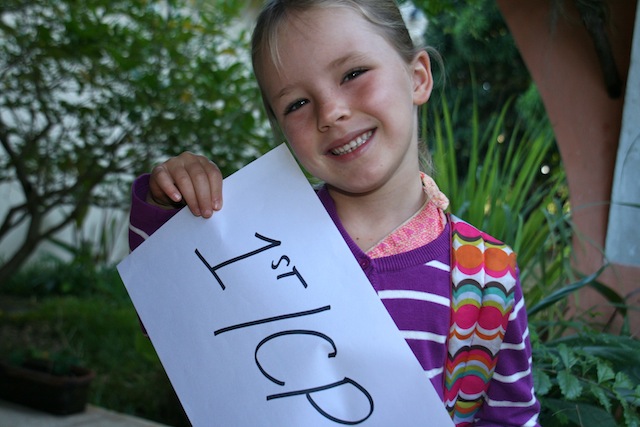 As you can see, Isabella is excited… Eliana is a little reluctant.  To be honest, I can't blame her.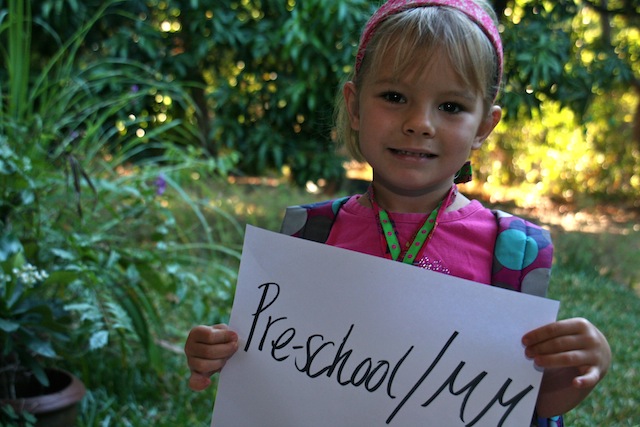 So we're a little less than a month into the French School.  All French, all the time.  The girls are doing well.  They're surviving and learning and growing and they're oh so tired by the end of the day!  Eliana is still young enough with enough time until she starts 1st grade that she'll really do fine on an educational level.  Not to diminish the hardships of not being able to communicate clearly of course.  Isabella on the other hand really has her work cut out for her.  She's got serious work… like reading and writing and comprehending in French.  And then there's the math… fortunately math tends to be math… though she will learn all about the Euro rather than the Dollar.
Thankfully their teachers and the school have been gracious.  We're learning along the way too.  Jamie can speak French and so he is their designated parent when it comes to their French education.  I can't even read the notes that are sent home about upcoming events, etc.  It's definitely not the way I envisioned being active in my kids education.  Unfortunately, there have been a number of things that just haven't even crossed our minds…. for example, we didn't tell the girls how to say, "I need to go potty".  As you can imagine, we learned the hard way.  Absolutely heartbreaking and a total, "I suck as a parent" type of moment.
Next week, I dive into English school with them in addition to their French school.  After all, we really want our kiddos to be able to read and write in English as well.  We start on Monday, Columbus Day (no American school holidays here).  Believe me, I'm no teacher, especially not to little ones.  I'm way too task-oriented which I've heard doesn't fly really well with homeschooling.  It's gonna be interesting.
I share all this to ask you to pray.  Pray for our kids!  We're going to be asking a lot of them, educationally, in the years to come.  When they're in Madagascar and attend the French School we will have to supplement their English and when we're in America and they attend an American School, we'll have to supplement their French education until we return to Madagascar.  And then in the mix of it all to learn Malagasy as they're playing with their friends.  To be honest, it doesn't seem very fair to ask little kids to have to work this hard….thankfully they have amazing minds at this age!  Pray for us!  We as parents have a lot of navigating to do through unchartered territory and it's a bit daunting.  Pray for a teacher!  Ultimately we're looking for a credentialed American teacher to come join us in Madagascar in order to set up a one-school house to teach our kids an approved home-schooling curriculum.  If you know of someone who fits this description… pass our info along!
Au Revoir!