Our Happy Place…
A couple months ago I was telling Jamie how much I would love it if he swept me away someplace as a surprise.  At that time, it was talk and I was loftily dreaming of someplace in Europe or Asia… walking the streets, exploring the culture, eating yummy cuisine, snapping pictures and enjoying each other, sans children.  I put my dream on the back burner because you know… REALITY.
Last month we "celebrated" our 12-year anniversary… and I'm holding that word of celebration loosely because in truth, there wasn't a celebration — 2 days prior we had come back from a week of work in the capital, were combatting our first (and horrendous) battle with headlice and preparing to welcome and host our African bosses that same day… you know, the typical 12-years of married life stuff!  Nothing like whispering sweet nothings into your spouse's ear while picking nits out of kids' hair… for 7 hours!  We postponed a celebratory anniversary dinner, that come to think of, we never did go to.
Two weeks ago, Jamie being the sweet, good listening, husband he is, had it all planned, unbeknownst to me, to sweep me away overnight.  He had our bags packed and everything taken care of, nearly ready to go, when I got back in the morning from our neighbor's house.  He met me at the door, made me close my eyes, and guided me to the bedroom where for the first time, I saw the luggage on the bed.  His words, "you just need to make sure I didn't forget anything".  My pathetic response…. with tears of overwhelmingness streaming down my cheeks, "why are you doing this now??"  Yeah…. not really the response he was looking for!  In my mind, I had a bazillion things that I had been planning on tackling that day and the following day at the maternity center in order to prepare for some renovations…. you know one of those, I need to get this done before that can happen so that later this can happen and it all needs to happen in the next 8 weeks before we leave the country.  Again, not really the response he was looking for.  In the end, with some other things stacked against us including a death, we postponed our surprise get-a-way for the following week so that we could actually enjoy ourselves rather than (me) being obsessed with all the to-do's.  Have I mentioned that my amazing husband is so gracious and understanding?!
The second attempt actually came to reality last weekend when Jamie swept me away for the night to celebrate our 12-year wedding anniversary. To say that it was great, is an understatement.  It was glorious!  In fact, this was our FIRST ever night alone together without the kids while in Madagascar– at most, we've only had a handful of hours away from them at any given time, but this weekend, we upped it to 27 blissful hours.  But really, who's counting?
Our city of Mahajanga is at the end of the road on what is a massive island– and there's not a whole lot outside of our city unless we were to drive 10 hours away… however, there is a little gem of a hotel, Antsanitia, just 25km from here.  We frequent this place as a family from time to time for a saturday of playing in the pool, beach combing for sand dollars and shells, flying kites and just being away from it all.  Occasionally we'll get away for 2 nights in Antsanitia, soaking up time together as a family.  However, NEVER have we gone just.the.two.of.us!
Once outside of town, we drove through a few dusty villages on dirt roads, passed the folks tending to their fields, the boys herding the cattle, and through one of our dry deciduous reforestation sites.  (Antsanitia partners with Eden Reforestation Projects for some of our reforestation work around their hotel).  Once we arrived at the hotel, we greeted the Malagasy staff who we've come to know well and I did the standard kisses alternating cheeks with the French managers.  Excitement was buzzing in the air between the two managers despite Jamie's attempt to keep them at bay so as to not ruin the surprise to come.  My lack of French-speaking ability certainly helped keep the secret.  When the receptionist lady handed us the key to our room, I immediately looked at Jamie knowing that this wasn't our standard room and with my eyes focused on him, i was silently saying, "you did not pay that much money did you?!!!  He only grinned.
We hopped back in the car, drove down the dirt road, past the bungalows we usually stay in, past the bigger bungalows with their private pools, and drove to the far end, where we pulled into THE VILLA.  My mind was spinning.  My sweet husband looked at me, put his hand on my knee and said, "happy anniversary!"  The villa was all ours… with it's expansive deck, private infinity pool overlooking the ocean, full kitchen, two bedrooms and two bathrooms downstairs, plus an upstairs master bedroom, bathroom and private deck overlooking said infinity pool and ocean.  The price?  Gratuit… free!  The tears began to run down my cheeks again as I experienced the enormity of this gift from our friends and partners at the hotel and this blessing from God– and our teammates who were graciously watching our crazy kids!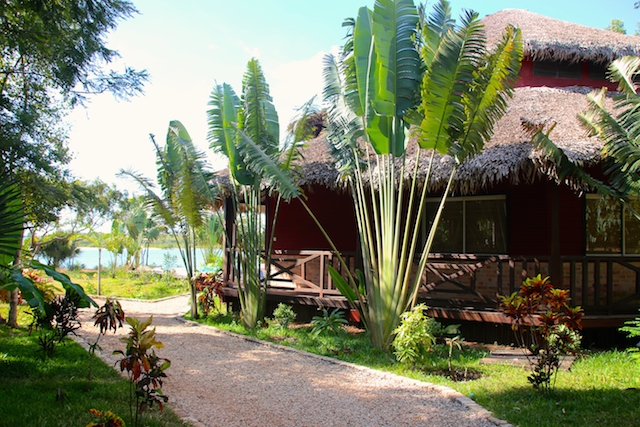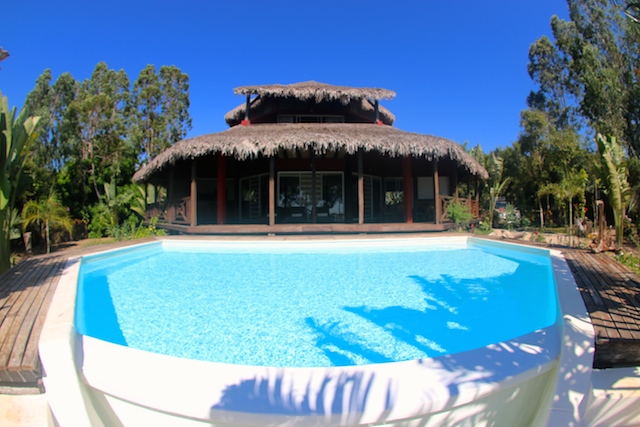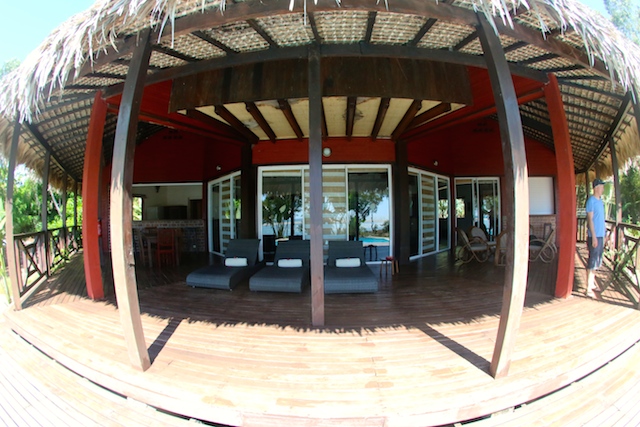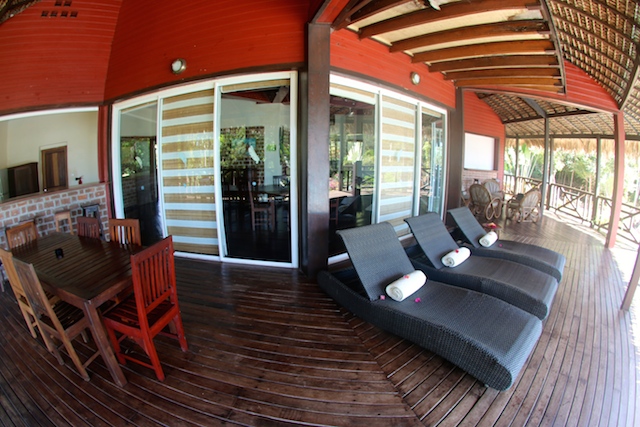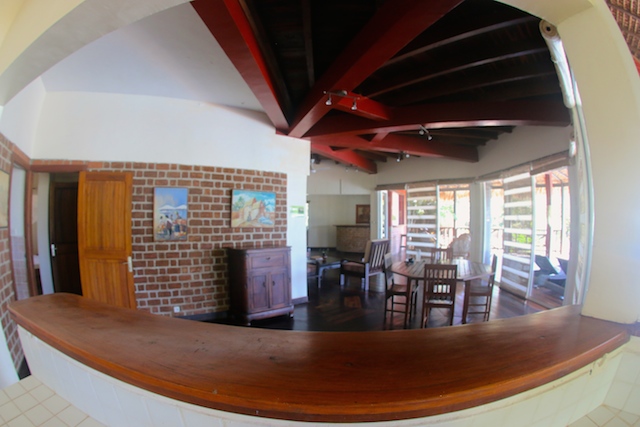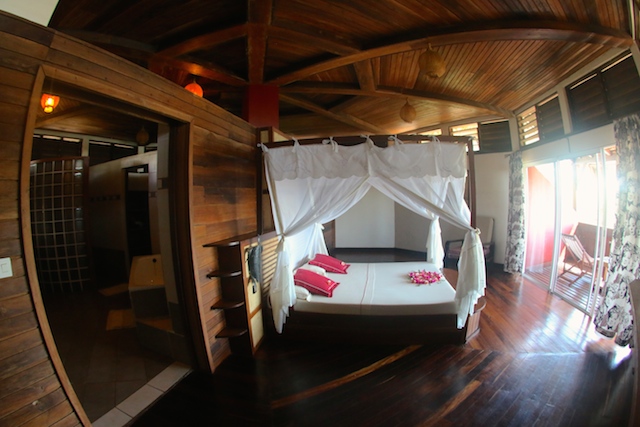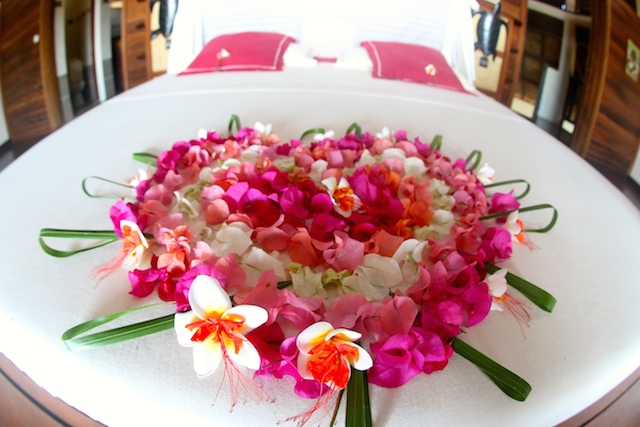 So for the next 27 hours, we enjoyed our happy place.  We walked on the beach, we read, we played cards, we swam, I laid in the sun devouring magazines (four to be exact!), Jamie did homework (not his happy place), we slept, we enjoyed good food and drinks, we.talked.uninterrupted!  Total bliss.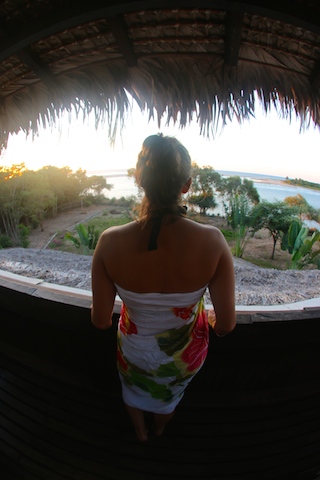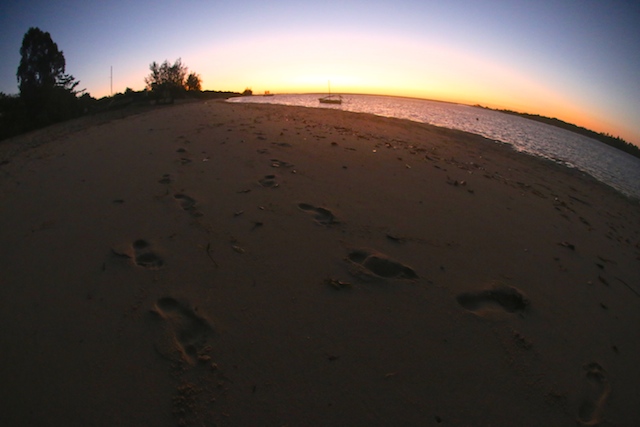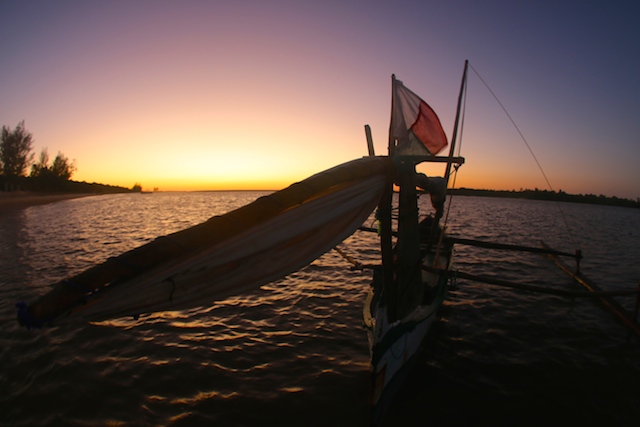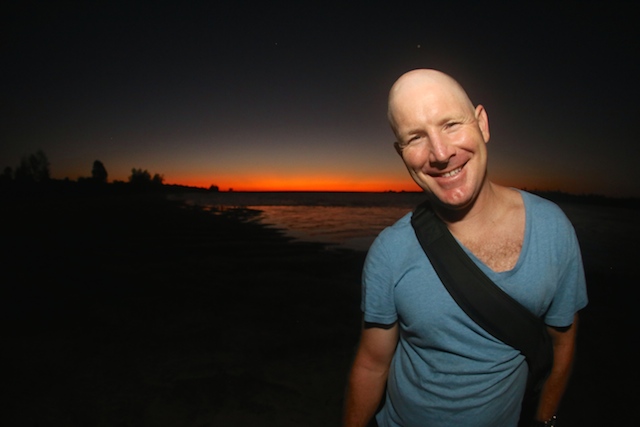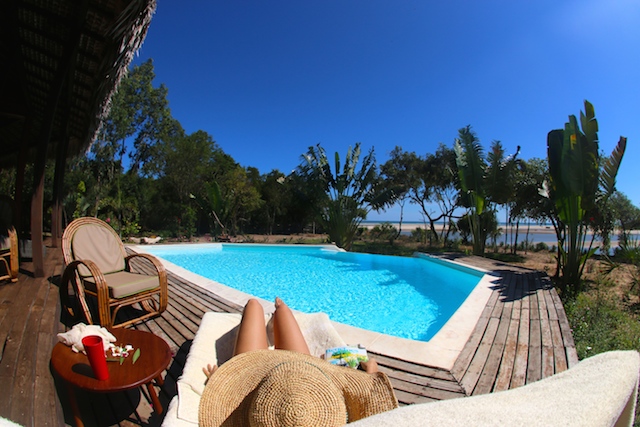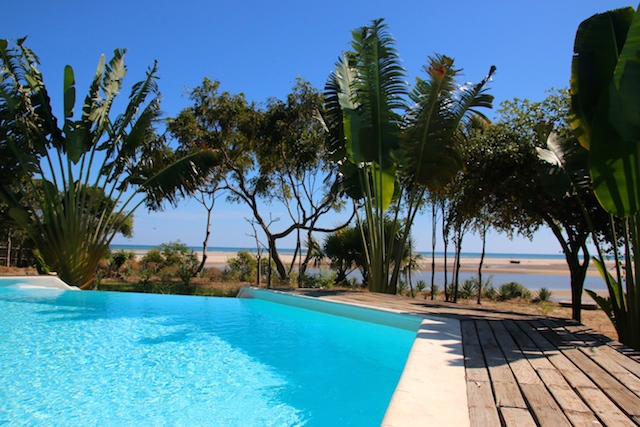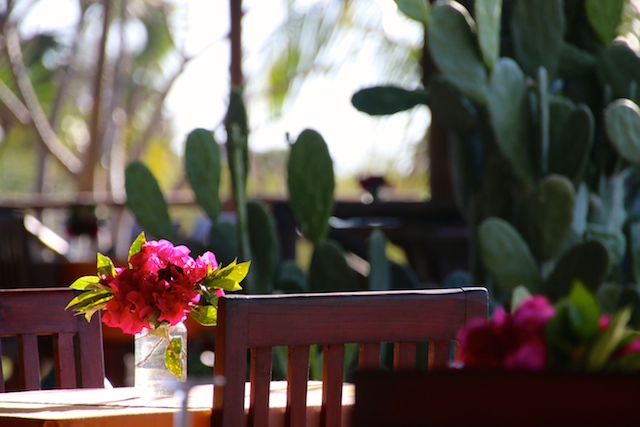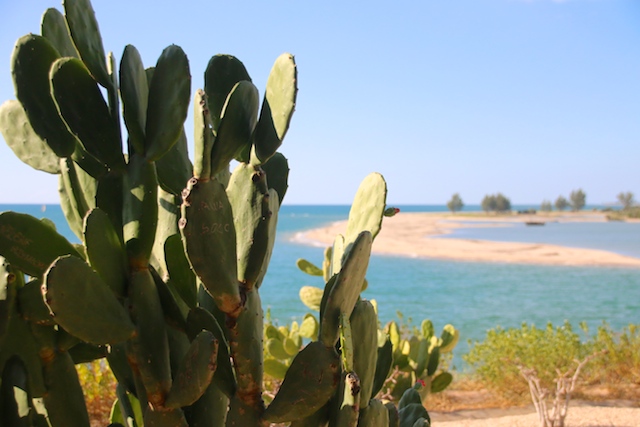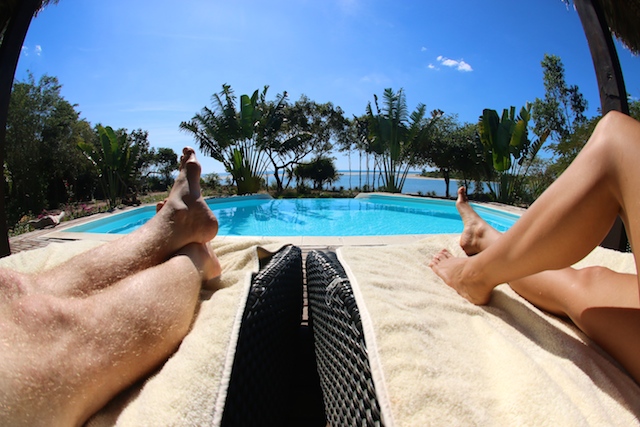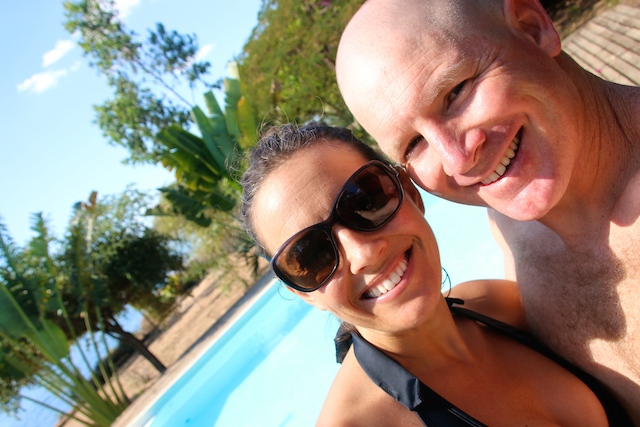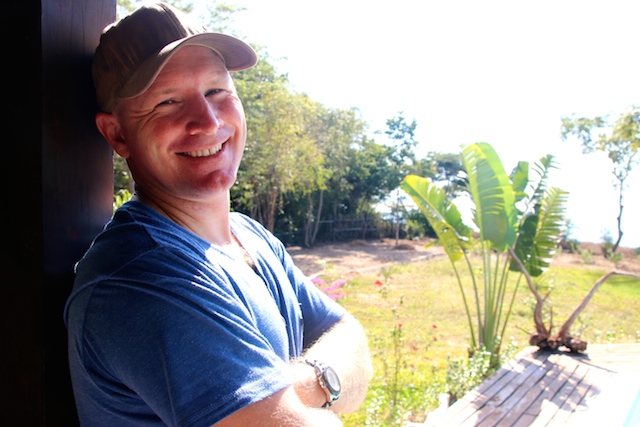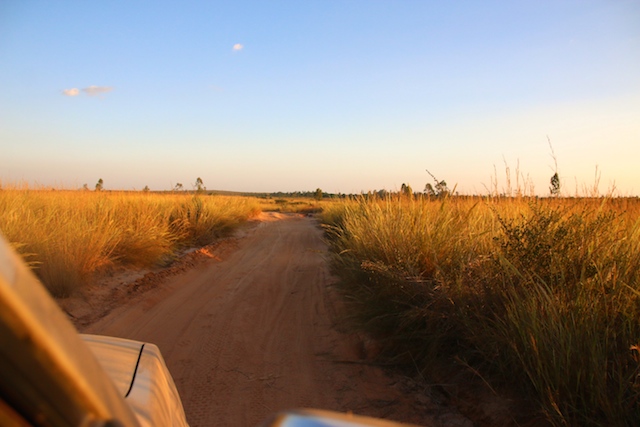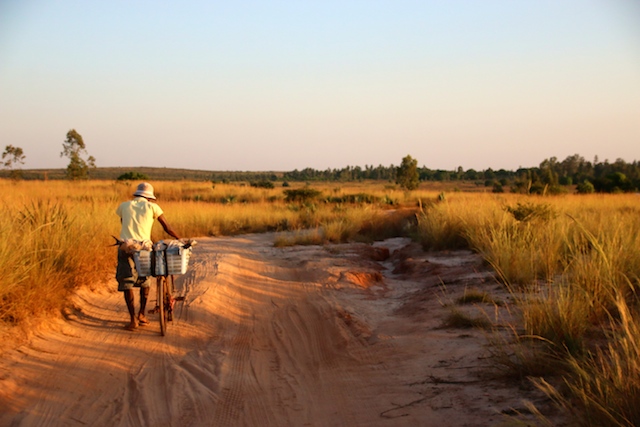 We left our happy place, came home refreshed, renewed, ready for tomorrow and more in love than we were the day before!  And we both realized that I love being swept away to surprise destinations… I just need a few day's notice!