Sites of the Road
Traveling in Madagascar is never dull.  The roads in the city are congested with cars, bikes, rickshaws, people, pushcarts, oxcarts, broken down vehicles, and a whole host of livestock.  The only difference between the cities and the countryside is it's less congested.  There is nothing that even comes close to a freeway on this large island.  The national "highway", if you can call it a highway, is a narrow two lane road without dividers.  On a recent trip to the capital, these were just a few of the sites on the national highway.
A taxi-be, the official mode of transportation for most Malagasy between large cities.  Notice all the chickens and turkeys hitching a ride on top.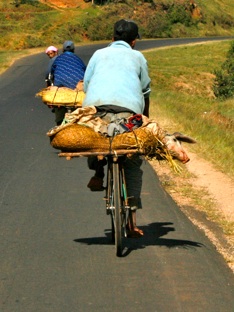 A live pig strapped on the back of this bike…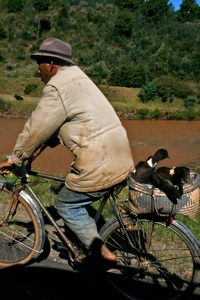 Several ducks catching a ride with this guy… dinner or pets?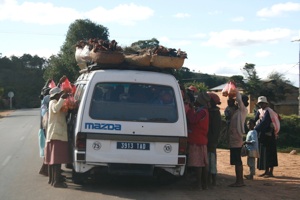 A common site when the taxi-be stops in small villages, the locals sell their fruits, veggies and cooked items to weary and hungry travelers.