The Full Story
I haven't been posting much lately, or posting practically at all for the last 6'ish months.  Our days have been busy with fundraising and all the State-side work that comes with "home assignment".  And truth be told, life for me… my life, is a bit uninspiring when in the States.  Life can be pretty uninspiring when in Madagascar too… but it's different.  I find Madagascar inspiring– the people, their stories, the culture, the beauty and the pain of this island nation.  Writing allows me to open the world that we get to experience in Madagascar to our friends and family in the USA, Canada, Latin America, Europe, Asia and other parts of Africa.  Writing is a bit cathartic to me as well.  The last few years have been over-the-top insane on several levels. This term I've committed to slowing down, breathing, enjoying my family more and doing things that I love.  Writing is one of them.
I guess there's no better place to start then the story, the full story, of trying to get back to the Red Island.  It goes a little something like this…
We were originally scheduled to return to Madagascar on January 4th.  Mid-December we found out that we needed to raise additional funds in order to return to our work here.  Just a mere $2,000/month!  This was a result of our jump from mid-term to career status missionaries and all the extra finances that come with the territory… plane tickets, change in tax status, yada yada yada.  So, we rescheduled our return to February 6th.
February 6th rolled around.  After sleeping only 4 hours in the 48 hours prior to our departure from SB, we drove down to LAX bleary-eyed and a bit discombobulated from the lack of sleep and high emotions.  We arrived early only to be met by the perfect storm of all that could go wrong.  With just a glance, we were immediately, firmly & rudely told that we had way too bags– and that our carry-ons were too large, too heavy and that we wouldn't be able to take them on board.  Oh, and that guitar, you can't take it in the cabin, you're gonna have to check that too.  That guitar was Isabella's Christmas present and immediately she went into panic mode, tears streaming down her face and she clenched the guitar.  Nevermind that she doesn't know how to play it at all.  In all honesty, we're really diligent to keep all of our checked bags under 50 pounds.  We pack, weigh, repack, re-weigh until the weight is just perfect.  Our carry-ons are another beast though.  We figure, we're young, strong and we don't mind being inconvenienced with heavy carry-ons as we trace across the globe.  So of course, we fill those bad boys up.  That's what the airline didn't like.  Your combined carry-on, we're talking computer/camera bag plus purse or whatever cannot exceed 12 kg or 26 pounds.  And so the shuffle of coloring books, journals, medical supplies, gifts for friends and precious commodities quickly ensued on the tile floor in front of the Air France counter.  90 minutes and two more checked pieces of luggage, we were ready to check in our 16 bags plus 10 carry-ons making sure that a not a single one was over that combined 26 pounds!  In all of our travels, we have never, ever, experienced such ruthlessness and lack of mercy amongst airline agents at the airport.  We later found out from the curb-side luggage guy that indeed this crew of this particular airline at this particular airport are exceedingly the worst.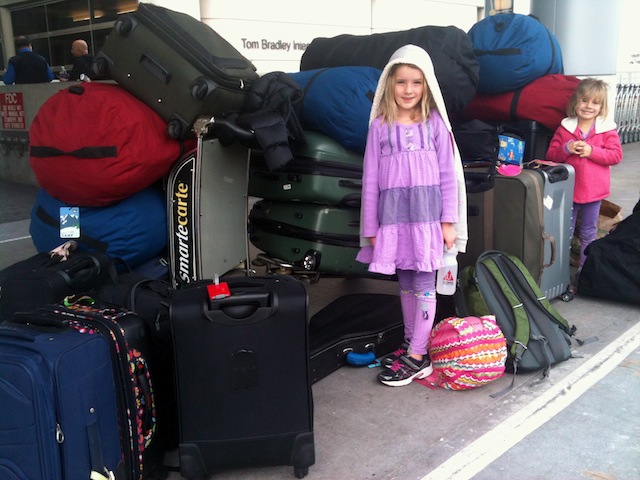 Finally, we started the check-in process and half way through, the agent asked for our entrance VISA into Madagascar.  We explained that though it was expiring on the day of our travel, there already was a VISA awaiting our arrival at the airport in Madagascar thanks to our Malagasy colleague who had gone to the Minister of Foreign Affairs office.  We never considered this may pose a problem.  First dumb mistake– and important lesson learned.  ALWAYS look at when your VISA expires before traveling.  But because we didn't have return tickets to the USA, this indeed was a serious problem.  Apparently the agents and the Air France supervisor didn't want to take the chance that this family of five would be turned away at the airport in Madagascar and they would in return be fined $25,000.  During this time, Eliana was crying hysterically as she just wanted to get on the airplane, then Isabella joined in and with his two older sisters crying, Gavin decided he may as well join the club though I don't think he really knew why he was crying.  Amidst all of this, Janet Jackson was escorted past us with all of her bodyguards and the paparazzi snapping away and while a famous Lebanese singer and actress was in line right in front of us with all the Air France agents striking a pose for pictures with her.  Four hours after our arrival, we left LAX with all 16 checked bags, plus 10 carry-ons, a stroller and a carseat, re-loaded them in the car and drove the 2 hours back to Santa Barbara still in shock and with three very sad and confused children.  And remember those 4 hours of sleep in a combined 48 hours— by this time it was 4 hours of sleep in nearly 60 hours, and as a result we actually pulled over and slept for 20 minutes in a parking lot along Pacific Coast Highway (PCH) while our kids watched the iPad in the backseat.  I tell you, technology can be a lifesaver at times!
Arriving back in Santa Barbara, I set my alarm clock for midnight so that I could call the hotel in Paris that we had made reservations at, hoping to reschedule our two rooms (it's a no-no for a family of five to sleep in a single room in most hotels in Paris).  As you may have guessed, we couldn't reschedule or cancel the rooms, unless of course, we paid more than the cost of the original two rooms.   Dumb mistake number two— and lesson learned… ALWAYS book rooms that are refundable and cancelable, even if it costs an extra 20 bucks.
Up to this point, it felt very much like a spiritual battle being waged.  In fact I even said so to one of the ticket agents, a man from Cameroon…. something along the lines of, are you a God-fearing man because I tell you, this, this right here, this is a spiritual battle!  Perhaps not one of my finer moments.  We know God is doing amazing things in Madagascar– the patterns of abusive birthing practices are being changed through love, compassion and prayer; poverty is being countered through reforestation and sustainable job creation; and families are experiencing freedom found in Christ when they've only known bondage by taboos and the worshipping of their ancestors.  Indeed the principalities of darkness that have reigned in this region of Madagascar are being challenged in various ways and one is through the very life and healing of our close friend and ministry partner, Josy who is awaiting our arrival before returning to the remote village of Mahabana that has been taboo Jesus Christ and the Bible.   If you don't know the back story of Josy, you can read it here, here, and here.
This second postponement of our return brought about some amazing blessings even in the turmoil and uncertainty.  Extra sleep for starters.  We also did things that we hadn't done much of or at all, up until that point in our time in the USA.  A movie and popcorn at the theater with the kiddos, a day of playing in Santa Barbara's back country with my folks, and intentional and encouraging hangout time with several friends.  Good stuff.
Five days later, we drove back down to LAX, this time with one less checked bag, 2 less carry-ons, less weight in our carry-ons and more sleep.  All of the Air France ticket agents that were there on Thursday immediately remembered us.  Even the first brutally mean and ruthless lady was there… this time, her attitude with us was totally polar opposite.  Smiling, talking, even offering to take pictures of my parents and the kids together.  Yeah, we were kinda blown away… and really, what a testimony to the prayers of many on our behalf!  This time around, our carry-ons weren't even glanced at let alone weighed or measured and our checked luggage after reshuffling them again at home, all weighed less than 50 pounds.  We had two official letters with us, the one from the Madagascar Ministry of Foreign Affairs, signed, dated, and stamped that indeed our VISA's were awaiting our arrival and the second letter from the Malagasy Embassy in the USA verifying this and also signed, dated and stamped.  Check-in was a total breeze.  Our seats were all over the place so the agent put us all together and because the flight was relatively empty, she spread us out in the same row giving us extra seats to lay down.  And remember that man from Cameroon and my God-fearing question to him five days earlier– well he was there the whole time and even commented to us while boarding, they treated you exceptionally well today after all the heartache they gave you last week.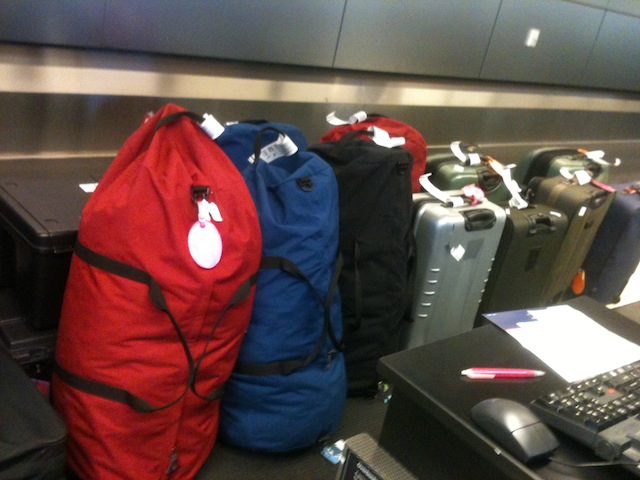 With tears, hugs and last good-byes, we bid my folks "see you later" and entered the security line.  As we got further away from them, Gavin kept shouting out, "bye grampy, bye grammy– we're gonna miss you!"  Through LAX we went, boarded the plane, spread out, put all of our extra light carry-ons overhead, fastened our seat-belts, and were ready for blast off (as Eliana says) when the plane stopped, returned to the gate and had some repairs done.  An hour later, we were finally in the air and Paris bound.
Paris was a breeze and we didn't have to pick up the 15 pieces of checked luggage.  We walked and rode the airport train over to our new hotel reservation (this time one that was cancelable and refundable).  It's a good thing too because as we were checking in the hotel agent said, two rooms, is that correct?  My reply, well unless you have something we can put all five of us in.   And as a matter of fact, they did!  I quickly went online, canceled our second reservations because this time I could and we ended up saving a good $150.00 on the second room!  Lesson number three learned– some hotels in Paris do have family suites where you only have to book 1 room– but they are extremely limited (2 in this particular hotel) and can't be booked online but rather in person or on the phone.
We spent the evening away from the hotel, got some decent food and let the kids run around and expend some energy.  Sleep was fleeting after midnight with jet lag but nevertheless we were up and ready for our flight to Madagascar the next morning.  Back at the airport, no one from Air France glanced at our carry-ons nor the paperwork from the Madagascar Minister of Foreign Affairs or the Embassy, and we went through security without any glitches.  The only hiccup occurred when our seats on the Paris-Madagascar were changed while back in LAX.  Apparently between then and now, the airplane had changed and aisle 21 was now in business class… but we certainly weren't business class travelers.  We were thrown back into the cattle car seats but were spread out all over the plane.  Clearly, the seating arrangement wasn't going to work and this time the plane was full in economy.  Jamie spoke with the ticket ladies at the gate — pleaded our case and had a great argument but alas, there wouldn't be anything to do until we were on the plane.  Nevertheless, we boarded the plane, put our items in the overhead bins, were spread out all over and waited to talk with the Air France crew.
Finally one of the crew members, a friendly middle-aged man came and spoke with me.  He knew our problem, heard our plea, told me about the change in aircraft and therefore the change in our seats and then proceeded to tell me that business class was almost fully open and he would be happy if we went up there!  Thank you Jesus!  We grabbed our carry-ons and quickly settled in to a little bit of luxuriousness for the next 11+ hours of air travel.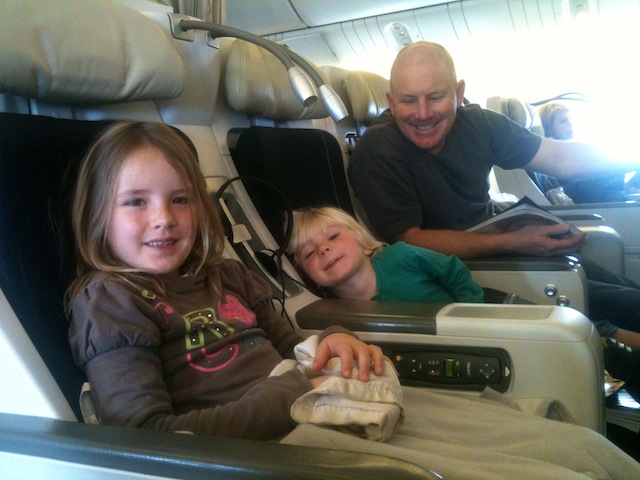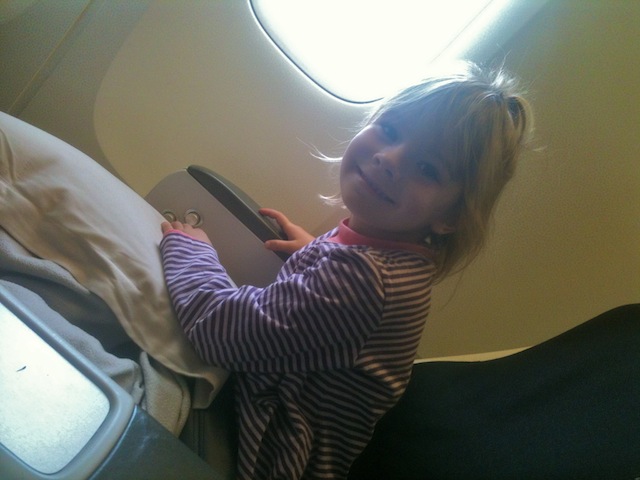 Once on Madagascar soil, we breathed a sigh of relief when every last piece of our luggage was spotted and our Malagasy teammate, Germain met us at the airport with the official letter from the Madagascar Minister of Foreign Affairs.  But wait… just when you think the saga was over… Jamie ran out of pages in his passport when the passport control dudes in France stamped tiny stamps on the only two available pages.  Immediately we realized that these guys were not going to be easy on us and they were threatening to send Jamie back to America in order to get more pages in his passport.  An hour later and already past midnight, they escorted Jamie into their office, leaving me, the kids and all of our luggage.  Nearly 20 minutes later, Jamie comes out with a new Malagasy VISA that he had to "purchase"… I'll let you interpret that as you may guess when dealing with corruption in Africa.  Dumb mistake number three— and lesson learned… ALWAYS make sure you have adequate pages in your passport when traveling.
So after three travel attempts, two hotel reservations, three continents, one corrupt government and lots of dumb mistakes with important lessons learned, we are all back in Madagascar together with our 15 bags of checked luggage, 8 carry-ons, 1 carseat, 1 stroller and 1 guitar.
God is good.  The prayers of His saints on our behalf are good.  Amidst all the uncertainty we experienced, Christ was always our Certain… in His Sovereignty, in His Peace, in His Grace, and in His Victory!